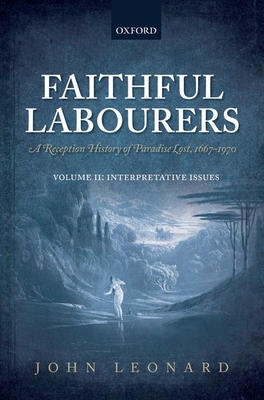 Faithful Labourers
A Reception History of Paradise Lost, 1667-1970: Volume I: Style and Genre; Volume II: Interpretative Issues
Hardcover

* Individual store prices may vary.
Other Editions of This Title:
Paperback (4/23/2017)
Description
Faithful Labourers surveys and evaluates existing criticism of John Milton's epic Paradise Lost, tracing the major debates as they have unfolded over the past three centuries. Eleven chapters split over two volumes consider the key debates in Milton criticism, including discussion of Milton's style, his use of the epic genre, and his references to Satan, God, innocence, the fall, sex, nakedness, and astronomy.
Volume one attends to questions of style and genre. The first three chapters examine the longstanding debate about Milton's grand style and the question of whether it forfeits the native resources of English. Early critics saw Milton as the pre-eminent poet of 'apt Numbers' and 'fit quantity', whose verse is 'apt' in the specific sense of achieving harmony between sound and sense; twentieth-century anti-Miltonists faulted Milton for divorcing sound from sense; late twentieth-century theorists have denied the possibility that sound can 'enact' sense. These are extreme changes of critical perception, and yet the story of how they came about has never been told. These chronological chapters explain the roots of these changes and, in doing so, engage with the enduring theoretical question of whether it is possible for sound to enact sense.
Volume two considers interpretative issues, and each of the six chapters traces a key debate in the interpretation of Paradise Lost. They engage with such questions as whether Paradise Lost is an epic or an anti-epic, whether Satan runs away with the poem (and whether it is good that he does so), what it means to be innocent (or fallen), and whether Milton's poetry is hostile to women. A final chapter on the universe of Paradise Lost makes the provocative argument that almost every commentator since the middle of the eighteenth century has led readers astray by presenting Milton's universe as the medieval model of Ptolemaic spheres. This assumption, which has fostered the notion that Milton was backward-looking or anti-intellectual, rests upon a misreading of three satirical lines. Milton's earliest critics recognized that he unequivocally embraces the new astronomy of Kepler and Bruno.

Oxford University Press, USA, 9780199666553, 880pp.
Publication Date: May 5, 2013
About the Author
John Leonard was educated at the University of Cambridge and moved to Canada in 1987. He has taught at the University of Western Ontario since 1987. He has twice won the Milton Society of America's James Holly Hanford Award: once for "most distinguished book published on Milton" (1990) and once for "most distinguished article" (2000).
or
Not Currently Available for Direct Purchase