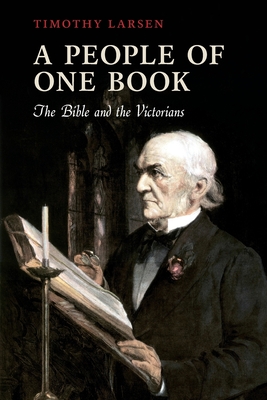 A People of One Book
The Bible and the Victorians
Paperback

* Individual store prices may vary.
Description
Although the Victorians were awash in texts, the Bible was such a pervasive and dominant presence that they may fittingly be thought of as 'a people of one book'. They habitually read the Bible, quoted it, adopted its phraseology as their own, thought in its categories, and viewed their own
lives and experiences through a scriptural lens. This astonishingly deep, relentless, and resonant engagement with the Bible was true across the religious spectrum from Catholics to Unitarians and beyond. The scripture-saturated culture of nineteenth-century England is displayed by Timothy Larsen in a series of lively case studies of representative figures ranging from the Quaker prison reformer Elizabeth Fry to the liberal Anglican pioneer of nursing Florence Nightingale to the Baptist preacher C.
H. Spurgeon to the Jewish author Grace Aguilar. Even the agnostic man of science T. H. Huxley and the atheist leaders Charles Bradlaugh and Annie Besant were thoroughly and profoundly preoccupied with the Bible. Serving as a tour of the diversity and variety of nineteenth-century views, Larsen's study presents the distinctive beliefs and practices of all the major Victorian religious and sceptical traditions from Anglo-Catholics to the Salvation Army to Spiritualism, while simultaneously drawing out their
common, shared culture as a people of one book.

Oxford University Press, USA, 9780199667819, 336pp.
Publication Date: December 12, 2012
About the Author
Timothy Larsen is McManis Professor of Christian Thought, Wheaton College, Wheaton, Illinois. He is a Fellow of the Royal Historical Society and has been a Visiting Fellow, Trinity College, Cambridge. He is the author or editor of over a dozen books including Crisis of Doubt: Honest Faith inNineteenth-Century England (Oxford University Press), which was named Book of the Year by Books & Culture.
or
Not Currently Available for Direct Purchase