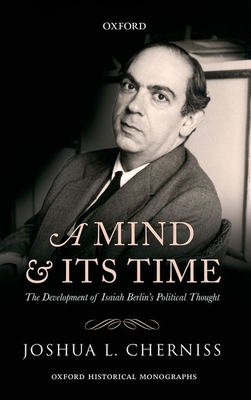 A Mind and Its Time (Hardcover)
The Development of Isaiah Berlin's Political Thought (Oxford Historical Monographs)
Oxford University Press, USA, 9780199673261, 264pp.
Publication Date: July 1, 2013
* Individual store prices may vary.
Description
A Mind and its Time offers the most detailed account to date of the genesis and development of Isaiah Berlin's political thought, philosophical views, and historical understanding. Drawing on both little-known published material and archival sources, it locates Berlin's evolving intellectual interests and political positions in the context of the events and trends of interwar and post-war intellectual and political life. Special emphasis is placed on the roots of Berlin's later pluralism in philosophical and cultural debates of the interwar period, his concern with the relationship between ethics and political conduct, and his evolving account of liberty. Berlin's distinctive liberalism is shown to have been shaped by his response to the cultural politics of interwar period, and the political and ethical dilemmas of the early Cold War era; and to what Berlin saw as a dangerous embrace of an elitist, technocratic, scientistic and "managerial" intellectual and political stance by liberals themselves. At the same time, Berlin's attitude toward what he called "positive liberty" emerges as far more complicated and ambivalent than is often realized. Joshua L. Cherniss reveals the multiplicity of Berlin's influences and interlocutors, the shifts in his thinking, and the striking consistency of his concerns and commitments. In shedding new light on Berlin's thought, and offering a better understanding of his place in the development of liberal thought in the twentieth century, he makes fresh contributions both to understanding the intellectual history of the twentieth century, and to discussions of liberty and liberalism in political theory.

About the Author
Joshua L. Cherniss holds a DPhil in History from the University of Oxford, and is a doctoral candidate and teaching fellow in Government at Harvard University. His research focusses on the history of political thought and political argument, particularly in the twentieth century, with a special interest in the relationship between ideological conflict, and arguments about the ethics of political action, and in the evolution of liberal and radical thought. He is the author of several articles and chapters on Isaiah Berlin's thought.
or
Not Currently Available for Direct Purchase