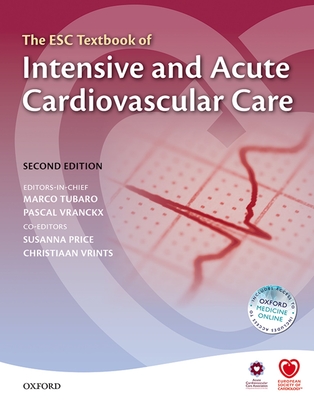 The Esc Textbook of Intensive and Acute Cardiovascular Care (Esc Textbook of Preventive Cardiology) (Hardcover)
Oxford University Press, USA, 9780199687039, 882pp.
Publication Date: April 26, 2015
* Individual store prices may vary.
Description
The ESC Textbook of Intensive and Acute Cardiovascular Care is the official textbook of the Acute Cardiovascular Care Association (ACCA) of the ESC. This new updated edition continues to comprehensively approach all the different issues relating to intensive and acute cardiovascular care. The textbook is addressed to all those involved in intensive and acute cardiac care, from cardiologists to emergency physicians and healthcare professionals. The chapters cover the various acute cardiovascular diseases that need high quality intensive treatment, but also organisational issues, cooperation among professionals, and interaction with other specialities in medicine. The largest section of the textbook is devoted to non-cardiac disease which could acutely involve the cardiovascular system. Other noteworthy chapters are on ethical issues - which are so important in acute cardiac care, such as patient safety, donor organ management and palliative care. A unique characteristic of the textbook is the presence of a whole section devoted to biomarkers, which underline the growing importance of laboratory medicine in the field of intensive and acute cardiac care. A particular asset of the textbook is the digital version available on Oxford Medicine Online, which has additional online features including an extra chapter on lung ultrasound and many more images and videos, as well as a full list of references from all chapters. The online version is updated by the same authors on a yearly basis and is available with the print version and separately on a subscription basis, allowing easy access to content in digital and mobile optimised format. The textbook aligns directly with the core training curriculum for ACCA.

About the Author
Marco Tubaro, Head ICCU, Cardiovascular Department, San Filippo Neri Hospital, Rome, Italy, Pascal Vranckx, Medical Director ICCU, Cardiology and Critical Care Medicine, ICCU Hartcentrum Hasselt, Belgium, Susanna Price, Consultant Cardiologist and Intensivist, Royal Brompton Hospital, London, UK, Christiaan Vrints, Head of Cardiology Department, University Hospital of Antwerp, Belgium Marco Tubaro is head of the ICCU at San Filippo Neri hospital in Rome . He is a member of the founding board of the WG Acute Cardiac Care (now Acute Cardiovascular Care Association) of the ESC and was previously national secretary of ANMCO (Italian association of hospital cardiologists). A visiting professor at Camerino University in Italy, Tubaro is an author of more than 370 papers. Pascal Vranckx is a consultant in interventional cardiology and medical director of the Cardiac Intensive Care Unit at Hartcentrum in Hasselt, Belgium. He is a research affiliate to the department of cardiology, Erasmus Medical Center in Rotterdam, The Netherlands. He is also clinical consultant and chair of the Clinical Events Committee Core Laboratories at Cardialysis in Rotterdam, The Netherlands. Pascal Vranckx has authored over 70 publications and over 10 chapters in textbooks and is an associate editor of the ESC Textbook of Acute Cardiology and Intensive Care Medicine 2010 and is deputy editor of EuroIntervention. Susanna Price trained in both cardiology and intensive care medicine, and is a Consultant Cardiologist and Intensivist at the Royal Brompton Hospital, London. Her main interests are intensive care cardiology, adult congenital heart disease, and critical and peri-operative/peri-procedural echocardiography. She developed a national training programme in ALS-compliant peri-resuscitation echocardiography, endorsed by the BSE and supported by the Resuscitation Council. Dr Price sits on a number of committees including Chair of the Accreditation/Certification Committee in Acute Cardiac Care(ESC), a member of the Working Group Intensive Care Echocardiography (ESICM), the Executive committee European trans-catheter valve replacement/repair registry(ESC), Accreditation Committee(BSE), Education & Training Committee, Intensive Care Society and the ESC Task Force MCQs and Professional Standards. Christiaan Vrints is Past-President of the Executive ACCA Board, and a Nucleus Member of the Association. He is Professor of cardiology at the University of Antwerp and Head of the Department of Cardiology at the University Hospital of Antwerp, Belgium.
or
Not Currently Available for Direct Purchase