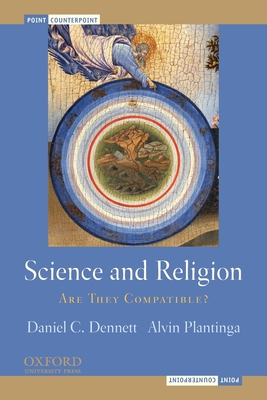 Science and Religion (Paperback)
Are They Compatible? (Point/Counterpoint (Oxford Paperback))
Oxford University Press, USA, 9780199738427, 82pp.
Publication Date: September 10, 2010
* Individual store prices may vary.
Description
One of today's most controversial and heated issues is whether or not the conflict between science and religion can be reconciled. In Science and Religion: Are They Compatible?, renowned philosophers Daniel C. Dennett and Alvin Plantinga expand upon the arguments that they presented in an exciting live debate held at the 2009 American Philosophical Association Central Division conference. An enlightening discussion that will motivate students to think critically, Science and Religion: Are They Compatible? opens with Plantinga's assertion that Christianity is compatible with evolutionary theory because Christians believe that God created the living world, and it is entirely possible that God did so by using a process of evolution. Dennett vigorously rejects this argument, provoking a reply from Plantinga, another response from Dennett, and final statements from both sides. As philosophers, the authors possess expert skills in critical analysis; their arguments provide a model of dialogue between those who strongly disagree. Ideal for courses in philosophy of religion, science and religion, and philosophy of science, Science and Religion is also captivating reading for general readers.

About the Author
Daniel C. Dennett is the Co-Director of the Center for Cognitive Studies, University Professor, and Austin B. Fletcher Professor of Philosophy at Tufts University. He is the author of Breaking the Spell: Religion as a Natural Phenomenon (2006) and Freedom Evolves (2003). Alvin Plantinga is John A. O'Brien Professor of Philosophy at the University of Notre Dame. He is the author of Essays in the Metaphysics of Modality (OUP, 2003) and Warranted Christian Belief (OUP, 2000).