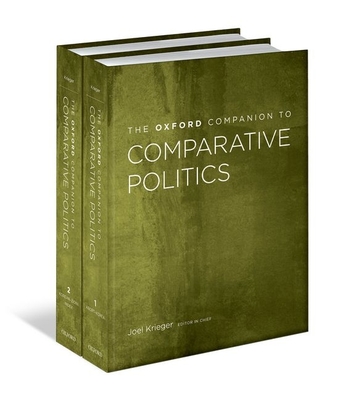 The Oxford Companion to Comparative Politics (Hardcover)
2-Volume Set (Oxford Companions to Political Studies)
Oxford University Press, USA, 9780199738595, 1320pp.
Publication Date: October 10, 2012
* Individual store prices may vary.
Description
The two-volume Oxford Companion to Comparative Politics fills a gap in scholarship on an increasingly important field within Political Science. Comparative Politics, the discipline devoted to the politics of other countries or peoples, has been steadily gaining prominence as a field of study, allowing politics to be viewed from a wider foundation than a concentration on domestic affairs would permit.
The Companion focuses on the major theories, concepts, and conclusions that define the field, analyzing the similarities and differences between political units. Additionally, the Companion outlines those comparativists who have influenced the field in significant ways, and politicians whose administrations have shaped the evaluation of contrasting governments.
Drawing on the depth and breadth of content from the Oxford Companion to Politics of the World, the Oxford Companion to Comparative Politics contains nearly 200 revised and updated articles from this foundational set in addition to over 100 new entries, which thoroughly examine the field.
New entries cover such topics as failed states, Grand Strategies, and Soft Power; important updates include such countries as China and Afghanistan and issues like Capital Punishment, Gender and Politics, and Totalitarianism. In addition to individual entries, 25 interpretive essays are included, authored by notable figures in the field who have analyzed the discipline, its issues and accomplishments. Collectively, entries promote deeper understanding of a field that is often elusive to non-specialists.

About the Author
Joel Krieger is the Norma Wilentz Hess Professor of Political Science at Wellesley College and the Board Chair of Global Policy Forum (GPF). He has written extensively on politics, including the books Globalization and State Power: A Reader (Pearson Longman, 2006), Globalization and State Power: Who Wins When America Rules? (Pearson Longman, 2005) and British Politics in the Global Age (Polity Press and Oxford University Press, 1999). Krieger served as editor-in-chief of the both editions of the Oxford Companion to Politics of the World.
or
Not Currently Available for Direct Purchase