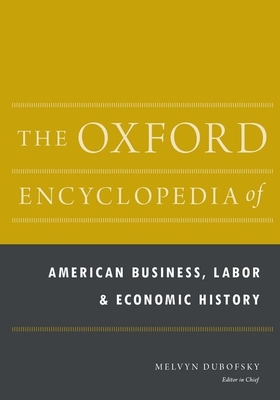 The Oxford Encyclopedia of American Business, Labor, and Economic History (Hardcover)
2-Volume Set (Oxford Encyclopedias of American History)
Oxford University Press, USA, 9780199738816, 1138pp.
Publication Date: July 8, 2013
* Individual store prices may vary.
Description
As the global economic crisis that developed in the year 2008 makes clear, it is essential for educated individuals to understand the history that underlies contemporary economic developments. This Encyclopedia offers students and scholars access to information about the concepts, institutions/organizations, events, and individuals that have shaped the history of economics, business, and labor from the origins of what became the United States in an earlier age of globalization and the expansion of capitalism to the present. It includes entries that explore the changing character of capitalism from the seventeenth century to the present; the evolution of business practices and organizations; describe changes in the labor force as legally free workers replaced a labor force dominated by slaves and indentures; treat the means by which workers sought to better their lives; and that deal with government policies and practices that affected economic activities, business developments, and the lives of working people.
This Encyclopedia includes readily at hand information about key economic concepts and theories, major economists, diverse sectors of the economy, the history of economic and financial crises, major business organizations and their founders, labor organizations and their leaders, and specific government policies and judicial rulings that have shaped US economic and labor history as well as guides to the best and most recent scholarly works related to the subject covered by each entry. Because of the broad chronological span covered by the encyclopedia and the breadth of its subjects, it will interest history students, economics majors, school of business entrants as well as to those studying public policy and administration.

About the Author
Melvyn Dubofsky is Distinguished Professor Emeritus of History & Sociology, SUNY Binghamton. He is the author or editor of nearly 20 books, including Hard Work: The Making of Labor History, The State and Labor in Modern America, and The Great Depression and the New Deal.
or
Not Currently Available for Direct Purchase