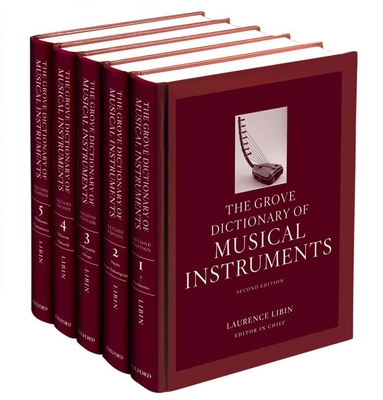 The Grove Dictionary of Musical Instruments
5-Volume Set
Hardcover

* Individual store prices may vary.
Description
The Grove Dictionary of Musical Instruments, 2nd edition, is the largest, most comprehensive reference publication on musical instruments of the world yet produced. Thirty years ago, the three-volume first edition of the dictionary was met with wide acclaim and went on to become an essential library research tool. This second edition reflects the growth of the scope and methodologies of the field of organology in the last three decades. At five volumes, the second edition provides greatly expanded coverage of instruments from around the world and their builders, with special attention to electronic and experimental instruments; the human body as instrument; the history and techniques of instrument design and manufacture; performance practice; and scholars whose work has shaped our understanding of musical instruments. The dictionary compiles essential information about the most important instruments worldwide, as well as a representative selection of lesser-known instruments of particular significance. Its core content, articles on instruments and their makers, is expanded and supported with articles addressing the cultural role of instruments throughout history and across the globe, with special attention to the development of organology in the thirty years since the first edition. Through the systematic study of the history of musical instruments and their design, technologies, and functions, the dictionary seeks to map the directions in which this field is growing in the 21st century, and to encourage further research. The dictionary's articles are supplemented by over 600 images and 190 musical examples, an index, abbreviations lists, and list of contributors. . With well-researched, informative articles by over 1000 authors, including most of the top scholars in the field, The Grove Dictionary of Musical Instruments is an essential tool not just for students and scholars of organology, musicology, ethnomusicology and anthropology, but for performers and the general public as well.

Oxford University Press, USA, 9780199743391, 4192pp.
Publication Date: December 8, 2014
or
Not Currently Available for Direct Purchase