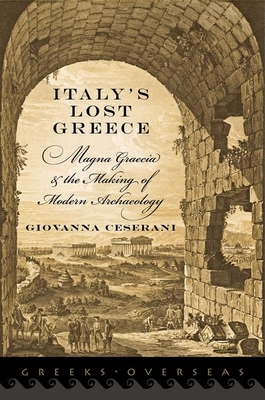 Italy's Lost Greece (Hardcover)
Magna Graecia and the Making of Modern Archaeology (Greeks Overseas)
Oxford University Press, USA, 9780199744275, 348pp.
Publication Date: February 7, 2012
* Individual store prices may vary.
Description
Italy's Lost Greece is the untold story of the modern engagement with the ancient Greek settlements of South Italy--an area known since antiquity as Magna Graecia. This "Greater Greece," at once Greek and Italian, has continuously been perceived as a region in decline since its archaic golden age, and has long been relegated to the margins of classical studies. Giovanna Ceserani's evocative and nuanced analysis recovers its significance within the history of classical archaeology. It was here that the Renaissance first encountered an ancient Greek landscape, and during the "Hellenic turn" of eighteenth-century Europe the temples of Paestum and the painted vases of South Italy played major roles, but since then, Magna Graecia--lying outside the national boundaries of modern Greece, and sharing in the complicated regional dynamic of the Italian Mezzogiorno--has fitted awkwardly into the commonly accepted paradigms of Hellenism. The unfolding of this process provides a unique insight into three developments: the humanist investment in the ancient past, the evolution of modern Hellenism, and the making of classical archaeology. Drawing on antiquarian and archaeological writings, histories and travelogues about Magna Graecia, and recent rewritings of the history and imagining of the South, Italy's Lost Greece sheds new light on well known figures in the history of archaeology while recovering forgotten ones. This is an Italian story of European resonance, which transforms our understanding of the transition from antiquarianism to archaeology, of the relationship between nation-making and institution-building in the study of the ancient past, and of the reconstruction of classical Greece in the modern world.

About the Author
Giovanna Ceserani is Assistant Professor in the Classics Department, and, by courtesy, History Department, Stanford University.
or
Not Currently Available for Direct Purchase