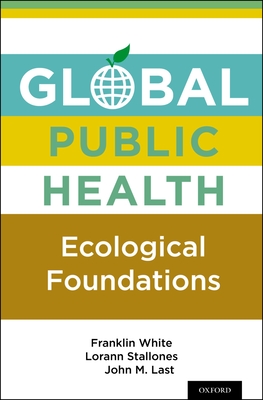 Global Public Health (Hardcover)
Ecological Foundations
Oxford University Press, USA, 9780199751907, 355pp.
Publication Date: February 18, 2013
* Individual store prices may vary.
Description
Amid ongoing shifts in the world economic and political order, the promise for future public health is tenuous. Will today's economic systems sustain tomorrow's health? Will future generations inherit fair access to health and health care? An important hope for the health of future generations is the establishment of a well-grounded, global public health system. Global Public Health: Ecological Foundations addresses both the challenges and cooperative solutions of contemporary public health, within a framework of social justice, environmental sustainability, and global cooperation. With an emphasis on ecological foundations, this book approaches public health principles-history, foundations, topics, and applications-with a community-oriented perspective. By achieving global reach through cooperative, community-based interventions, this text illustrates that the practical application of public health principles can help maintain the health of the world's people. Blending established wisdom with new perspectives, Global Public Health will stimulate better understanding of how the different streams of public health can work more synergistically to promote global health equity. It is a foundation for future public health measures to be built and to succeed.

About the Author
Franklin White, MDCM, MSc, FRCPC, FFPH, is President of Pacific Health & Development Sciences, Inc., in Victoria, British Columbia, and Adjunct Professor at University of Victoria and Dalhousie University. Lorann Stallones, PhD, MPH, is Professor of Psychology and Director, Graduate Degree Program in Public Health at Colorado State University, Colorado School of Public Health. John M. Last, MD, DPH, FRACP, FRCPC, FFPH, FACPM is Emeritus Professor of Epidemiology at the University of Ottawa; he is the author of Public Health and Human Ecology and A Dictionary of Public Health, and former editor in chief of Public Health and Preventive Medicine ("Maxcy-Rosenau-Last"), and A Dictionary of Epidemiology .