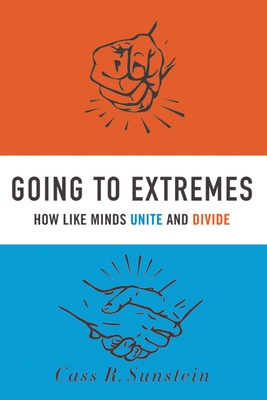 Going to Extremes
How Like Minds Unite and Divide
Paperback

* Individual store prices may vary.
Description
Why do people become extremists? What makes people become so dismissive of opposing views? Why is political and cultural polarization so pervasive in America? In Going to Extremes, renowned legal scholar and best-selling author Cass R. Sunstein offers startling insights into why and when people gravitate toward extremism. Sunstein marshals a wealth of evidence that shows that when like-minded people gather in groups, they tend to become more extreme in
their views than they were before. Thus when liberals group get together to debate climate change, they end up more alarmed about climate change, while conservatives brought together to discuss same-sex unions become more set against same-sex unions. In courtrooms, radio stations, and chatrooms,
enclaves of like-minded people are breeding ground for extreme movements. Indeed, Sunstein shows that a good way to create an extremist group, or a cult of any kind, is to separate members from the rest of society, either physically or psychologically. Sunstein's findings help to explain such
diverse phenomena as political outrage on the Internet, unanticipated blockbusters in the film and music industry, the success of the disability rights movement, ethnic conflict in Iraq and former Yugoslavia, and Islamic terrorism. Providing a wealth of real-world examples--sometimes entertaining, sometimes alarming--Sunstein offers a fresh explanation of why partisanship has become so bitter and debate so rancorous in America and abroad. Praise for the hardcover: A path-breaking exploration of the perils and possibilities created by polarization among the like-minded.
--Kathleen Hall Jamieson, co-author of unSpun and Echo Chamber Poses a powerful challenge to anyone concerned with the future of our democracy. He reveals the dark side to our cherished freedoms of thought, expression and participation. Initiates an urgent dialogue which any thoughtful citizen should be interested in.
--James S. Fishkin, author of When the People Speak

Oxford University Press, USA, 9780199754120, 208pp.
Publication Date: March 4, 2011
About the Author
Cass R. Sunstein is the Administrator of the Office of Information and Regulatory Affairs in the Obama Administration and the Felix Frankfurter Professor of Law at Harvard University. He is the author of many books, including the New York Times best-seller Nudge (with Richard Thaler), Infotopia, Republic 2.0, Worst-Case Scenarios, Radicals in Robes, Why Societies Need Dissent, and Democracy and the Problem of Free Speech.