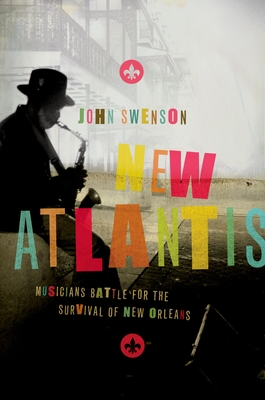 New Atlantis: Musicians Battle for the Survival of New Orleans (Hardcover)
Musicians Battle for the Survival of New Orleans
Oxford University Press, USA, 9780199754526, 284pp.
Publication Date: June 6, 2011
* Individual store prices may vary.
or
Not Currently Available for Direct Purchase
Description
At its most intimate level, music heals our emotional wounds and inspires us. At its most public, it unites people across cultural boundaries. But can it rebuild a city? That's the central question posed in New Atlantis, journalist John Swenson's beautifully detailed account of the musical artists working to save America's most colorful and troubled metropolis: New Orleans.
The city has been threatened with extinction many times during its three-hundred-plus-year history by fire, pestilence, crime, flood, and oil spills. Working for little money and in spite of having lost their own homes and possessions to Katrina, New Orleans's most gifted musicians--including such figures as Dr. John, the Neville Brothers, "Trombone Shorty," and Big Chief Monk Boudreaux--are fighting back against a tidal wave of problems: the depletion of the wetlands south of the city (which are disappearing at the rate of one acre every hour), the violence that has made New Orleans the murder capitol of the U.S., the waning tourism industry, and above all the continuing calamity in the wake of Hurricane Katrina (or, as it is known in New Orleans, the "Federal Flood"). Indeed, most of the neighborhoods that nurtured the indigenous music of New Orleans were destroyed in the flood, and many of the elder statesmen have died or been incapacitated since then, but the musicians profiled here have stepped up to fill their roles. New Atlantis is their story.
Packed with indelible portraits of individual artists, informed by Swenson's encyclopedic knowledge of the city's unique and varied music scene--which includes jazz, R&B, brass band, rock, and hip hop--New Atlantis is a stirring chronicle of the valiant efforts to preserve the culture that gives New Orleans its grace and magic.

About the Author
John Swenson has been a syndicated columnist for more than 20 years at UPI and Reuters. His account of musicians returning to New Orleans after Katrina, "The Bands Played On," appeared in Da Capo's Best Music Writing 2007; his "Every Accordionist a King" won the 2008 Best Entertainment Feature award from the Press Club of New Orleans. Swenson has been an editor for Crawdaddy, Rolling Stone, Circus, Rock World, Offbeat, and other publications. He is the author of The Rolling Stone Jazz and Blues Album Guide (Random House, 1999); Stevie Wonder (Plexus, 1989); and Bill Haley: The Daddy of Rock and Roll (Stein and Day, 1985).
Advertisement