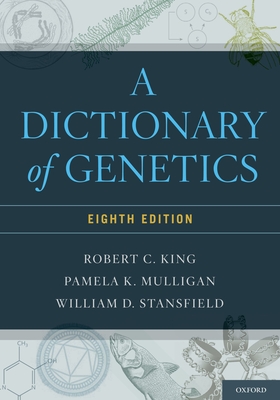 Dictionary of Genetics (Paperback)
OUP Us, 9780199766444, 641pp.
Publication Date: December 6, 2012
* Individual store prices may vary.
Description
This eighth edition of A Dictionary of Genetics contains over 7,500 up-to-date and cross-referenced entries, including 540 that are newly written. The entries include the latest terminology, concepts, theories, and techniques, covering not only genetics but also such overlapping disciplines as cell biology, medicine, and evolutionary biology. The fully revised six appendices are a unique source of detailed supplementary information, including a chronology of scientific and technological breakthroughs spanning the period from 1590 to the present, lists of useful internet sites and journals, and a table of sample genome sizes and gene numbers. A Dictionary of Genetics continues to be the definitive reference work for students, educators, and clinicians in the field of genetics.

About the Author
Robert C. King, Ph.D., is an Emeritus Professor in the Department of Biochemistry, Molecular Biology, and Cell Biology at Northwestern University. He has published 117 papers and review articles in the field of genetic control of insect oogenesis and has written several books. Pamela K. Mulligan, Ph.D., is a geneticist with extensive research experience, numerous publications, and a lengthy background in scientific editorial work. William D. Stansfield, Ph.D., is an Emeritus Professor in the Biological Sciences Department at California Polytechnic State University.