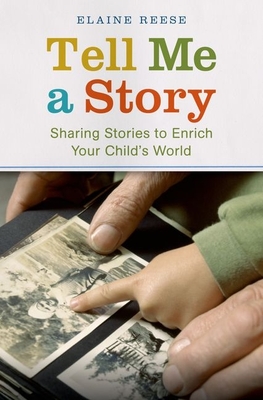 Tell Me a Story
Sharing Stories to Enrich Your Child's World
Hardcover

* Individual store prices may vary.
Description
Family storytelling offers many of the same advantages as book reading - and some new ones - for children's language and emotional development, coping skills, and sense of belonging.
Tell Me a Story: Sharing Stories to Enrich Your Child's World shows parents how telling and sharing stories about family experiences can help children grow into healthy, happy adolescents and adults. Dr. Elaine Reese outlines the techniques that work best with children of all ages, from toddlers to
teens, including children with learning delays and difficult temperaments. She also tackles challenging issues such as whether children profit at all from the stories that they experience through TV, movies, and video games; how storytelling differs from daughters to sons; and the best ways to
continue to share family stories with children after a separation or divorce. Finally, Reese shares tips specially designed for storytelling with grandchildren, demonstrating how parents can and should continue to nurture family storytelling long after their children are grown, and especially once
their children become parents themselves. Providing guidance on a positive, portable, and free way to enrich children's development, Tell Me a Story deserves a place in every parent's library.

Oxford University Press, USA, 9780199772650, 272pp.
Publication Date: May 24, 2013
About the Author
Elaine Reese is Professor of Psychology at the University of Otago in New Zealand. She received her PhD from Emory University and has researched and taught child development in the US and New Zealand for over 20 years. Elaine has 16 years of family storytelling experience with her two children.