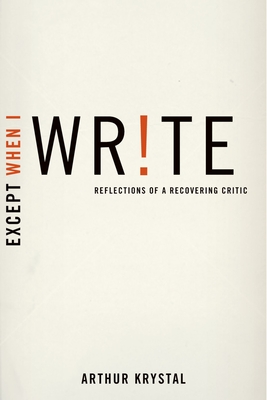 Except When I Write (Hardcover)
Reflections of a Recovering Critic
Oxford University Press, USA, 9780199782406, 196pp.
Publication Date: July 1, 2011
* Individual store prices may vary.
Description
When cultural critics with such wildly divergent views as Jacques Barzun, Christopher Hitchens, Joseph Epstein, Dana Gioia, and Morris Dickstein all agree about the merits of one contemporary essayist, shouldn't you find out why? "I never think except when I sit down to write." -- Attributed to Montaigne by Edgar Allan Poe From Montaigne in the sixteenth century to Orwell, Eliot, and Trilling in the twentieth, the best literary essayists combine a gift for observation with an abiding commitment to books. Although it may seem that books are becoming less essential and that a revolution in sensibility is taking place, the essays of Arthur Krystal suggest otherwise. Companionable without being chummy, engaged without being didactic, erudite without being stuffy, he demonstrates that literature, even in the digital age, remains the truest expression of the human condition. Covering subjects as diverse as aphorisms, dueling, the night, and the 1960s, the essays gathered here offer the common reader uncommon pleasure. In prose that is both vibrant and elegant, Krystal negotiates among myriad subjects-from historical writing as exemplified by Jacques Barzun to the art of screenwriting as not so happily represented by F. Scott Fitzgerald. His cardinal rule as a writer? William Hazlitt's "Confound it, man, don't be insipid." No fear of that. Except When I Write is thoughtful in the most joyful sense-brimming with ideas in order to give us the flow and cadence of someone actually thinking. Keenly observant and death on pretension, Krystal examines the world of books without ever losing sight of the world beyond them. Literature may be the bedrock on which these essays rest, but as F. R. Leavis aptly noted, "One cannot seriously be interested in literature and remain purely literary in interests." Except When I Write is a reminder of both the pleasure and the power of a well- tuned essay.
About the Author
Arthur Krystal has written for The New Yorker, Harpers, the American Scholar, the Times Literary Supplement, The New York Times Book Review, and other publications. He is the author of The Half-Life of an American Essayist and Agitations: Essays on Life and Literature. The title essay of Except When I Write was selected for inclusion in the 2010 edition of Best American Essays. He lives in New York City.
or
Not Currently Available for Direct Purchase