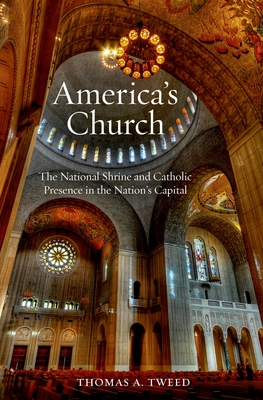 America's Church (Hardcover)
The National Shrine and Catholic Presence in the Nation's Capital
Oxford University Press, USA, 9780199782987, 391pp.
Publication Date: June 28, 2011
* Individual store prices may vary.
Description
The National Shrine in Washington, DC has been deeply loved, blithely ignored, and passionately criticized. It has been praised as a "dazzling jewel" and dismissed as a "towering Byzantine beach ball." In this intriguing and inventive book, Thomas Tweed shows that the Shrine is also an illuminating site from which to tell the story of twentieth-century Catholicism. He organizes his narrative around six themes that characterize U.S. Catholicism, and he ties these themes to the Shrine's material culture--to images, artifacts, or devotional spaces. Thus he begins with the Basilica's foundation stone, weaving it into a discussion of "brick and mortar" Catholicism, the drive to build institutions. To highlight the Church's inclination to appeal to women, he looks at fund-raising for the Mary Memorial Altar, and he focuses on the Filipino oratory to Our Lady of Antipolo to illustrate the Church's outreach to immigrants. Throughout, he employs painstaking detective work to shine a light on the many facets of American Catholicism reflected in the shrine.

About the Author
Thomas A. Tweed is Shive, Lindsay, and Gray Professor of Religious Studies at the University of Texas, Austin. He is the author of Our Lady of the Exile and Crossing and Dwelling.