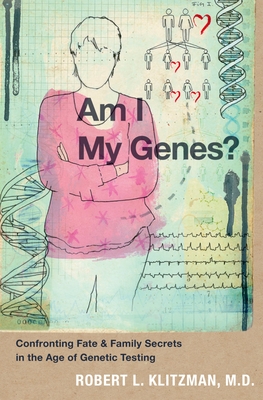 Am I My Genes? (Hardcover)
Confronting Fate and Family Secrets in the Age of Genetic Testing
OUP Us, 9780199837168, 365pp.
Publication Date: March 1, 2012
* Individual store prices may vary.
Description
In the fifty years since DNA was discovered, we have seen extraordinary advances. For example, genetic testing has rapidly improved the diagnosis and treatment of diseases such as Huntington's, cystic fibrosis, breast cancer, and Alzheimer's. But with this new knowledge comes difficult decisions for countless people, who wrestle with fear about whether to get tested, and if so, what to do with the results. Am I My Genes? shows how real individuals have confronted these issues in their daily lives. Robert L. Klitzman interviewed 64 people who faced Huntington's Disease, breast and ovarian cancer, or Alpha-1 antitrypsin deficiency. The book describes--often in the person's own words--how each has wrestled with the vast implications that genetics has for their lives and their families. Klitzman shows how these men and women struggle to make sense of their predicament and its causes. They confront a series of quandaries--whether to be tested; whether to disclose their genetic risks to parents, siblings, spouses, offspring, friends, doctors, insurers, employers, and schools; how to view and understand themselves and their genetics; what treatments, if any, to pursue; whether to have children, adopt, screen embryos, or abort; and whether to participate in genetic communities. In the face of these uncertainties, they have tried to understand these tests and probabilities, avoid fatalism, anxiety, despair, and discrimination, and find hope, meaning, and a sense of wholeness. Forced to wander through a wilderness of shifting sands, they chart paths that many others may eventually follow. Klitzman captures here the voices of pioneers, some of the first to encounter the personal dilemmas introduced by modern genetics. Am I My Genes? is an invaluable account of their experience, one that will become all the more common in the coming years. "An extraordinary exploration...probing the many roles and implications of genetics in our lives today.... Filled with astonishing insights, this riveting book is vital reading for us all."
--Paula Zahn "Klitzman lucidly discusses the moral and psychological complexities that come in the wake of genetic testing.... An important book for anyone who has the genes for pathology, which is all of us, and I recommend it highly."
--Kay Redfield Jamison, author of An Unquiet Mind "An illuminating voyage through the medical, familial and existential quandaries faced by those of us at genetic risk."
--Thomas H. Murray, President and CEO, The Hastings Center

About the Author
Robert Klitzman is Professor of Clinical Psychiatry and the Director of the Masters of Bioethics Program at Columbia University. He co-founded and for five years co-directed the Columbia University Center for Bioethics, and is the Director of the Ethics and Policy Core of the HIV Center. He is the author of When Doctors Become Patients, A Year-long Night: Tales of a Medical Internship, In a House of Dreams and Glass: Becoming a Psychiatrist, and other works.