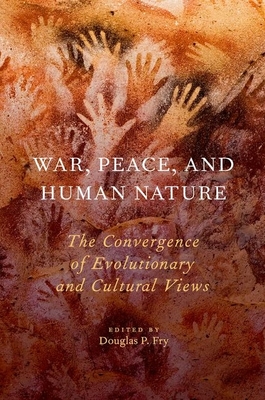 War, Peace, and Human Nature (Hardcover)
The Convergence of Evolutionary and Cultural Views
Oxford University Press, USA, 9780199858996, 562pp.
Publication Date: April 12, 2013
* Individual store prices may vary.
Description
Have humans always waged war? Is warring an ancient evolutionary adaptation or a relatively recent behavior--and what does that tell us about human nature? In War, Peace, and Human Nature, editor Douglas P. Fry brings together leading experts in such fields as evolutionary biology, archaeology, anthropology, and primatology to answer fundamental questions about peace, conflict, and human nature in an evolutionary context. The chapters in this book demonstrate that humans clearly have the capacity to make war, but since war is absent in some cultures, it cannot be viewed as a human universal. And counter to frequent presumption the actual archaeological record reveals the recent emergence of war. It does not typify the ancestral type of human society, the nomadic forager band, and contrary to widespread assumptions, there is little support for the idea that war is ancient or an evolved adaptation. Views of human nature as inherently warlike stem not from the facts but from cultural views embedded in Western thinking. Drawing upon evolutionary and ecological models; the archaeological record of the origins of war; nomadic forager societies past and present; the value and limitations of primate analogies; and the evolution of agonism, including restraint; the chapters in this interdisciplinary volume refute many popular generalizations and effectively bring scientific objectivity to the culturally and historically controversial subjects of war, peace, and human nature.

About the Author
Douglas P. Fry, Ph.D., is Director of Peace, Mediation and Conflict Research at Abo Akademi University in Vasa, Finland and an adjunct research scientist in the Bureau of Applied Research in Anthropology at the University of Arizona. Fry is author of Beyond War (2007, Oxford) and The Human Potential for Peace (2006, Oxford).
or
Not Currently Available for Direct Purchase