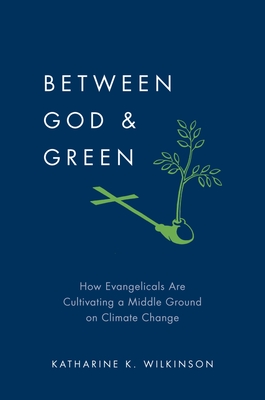 Between God & Green
How Evangelicals Are Cultivating a Middle Ground on Climate Change
Hardcover

* Individual store prices may vary.
Description
Despite three decades of scientists' warnings and environmentalists' best efforts, the political will and public engagement necessary to fuel robust action on global climate change remain in short supply. Katharine K. Wilkinson shows that, contrary to popular expectations, faith-based efforts
are emerging and strengthening to address this problem. In the US, perhaps none is more significant than evangelical climate care. Drawing on extensive focus group and textual research and interviews, Between God & Green explores the phenomenon of climate care, from its historical roots and theological grounding to its visionary leaders and advocacy initiatives. Wilkinson examines the movement's reception within the broader
evangelical community, from pew to pulpit. She shows that by engaging with climate change as a matter of private faith and public life, leaders of the movement challenge traditional boundaries of the evangelical agenda, partisan politics, and established alliances and hostilities. These leaders view
sea-level rise as a moral calamity, lobby for legislation written on both sides of the aisle, and partner with atheist scientists. Wilkinson reveals how evangelical environmentalists are reshaping not only the landscape of American climate action, but the contours of their own religious community. Though the movement faces complex challenges, climate care leaders continue to leverage evangelicalism's size, dominance, cultural
position, ethical resources, and mechanisms of communication to further their cause to bridge God and green.

Oxford University Press, USA, 9780199895885, 256pp.
Publication Date: June 25, 2012
About the Author
Consultant, The Boston Consulting Group (D.Phil., Oxford)