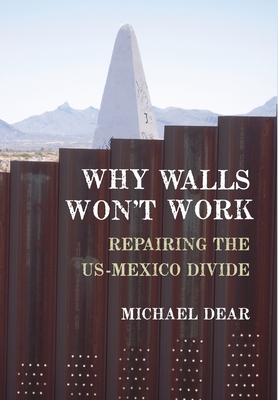 Why Walls Won't Work
Repairing the US-Mexico Divide
Hardcover

* Individual store prices may vary.
Other Editions of This Title:
Paperback (11/17/2015)
MP3 CD (5/17/2016)
Description
Why Walls Won't Work is a sweeping account of life along the United States-Mexico border zone, tracing the border's history of cultural interaction since the earliest Mesoamerican times to the present day. As soon as Mexicans, American settlers, and indigenous peoples came into contact along the Rio Grande in the mid-nineteenth century, new forms of interaction and affiliation evolved. By the late-twentieth century, the border states were among the fastest-growing regions in both countries. But as Michael Dear warns, this vibrant zone of economic, cultural and social connectivity is today threatened by highly restrictive American immigration and security policies as well as violence along the border. The U.S. border-industrial complex and the emerging Mexican narco-state are undermining the very existence of the third nation occupying the space between Mexico and the U.S. Through a series of evocative portraits of contemporary border communities, Dear reveals how the promise
and potential of this in-between nation still endures and is worth protecting. Now with a new chapter updating this story and suggesting what should be done about the challenges confronting the cross-border zone, Why Walls Won't Work represents a major intellectual intervention into one of the most hotly-contested political issues of our era.

Oxford University Press, USA, 9780199897988, 286pp.
Publication Date: February 13, 2013
About the Author
Michael Dear is Professor of City and Regional Planning in the College of Environmental Design at the University of California-Berkeley. The author/editor of more than a dozen books, he has been a Guggenheim Fellowship holder, a Fellow at the Center for Advanced Study in the Behavioral Sciences at Stanford, and Fellow at the Rockefeller Center in Bellagio, Italy. He has received the highest honors for creativity in research from the Association of American Geographers, and numerous undergraduate teaching and graduate mentorship awards.