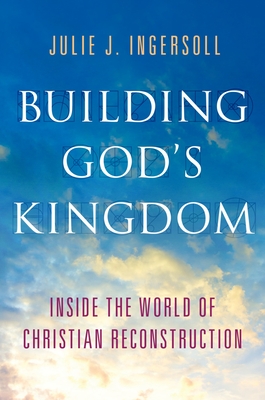 Building God's Kingdom
Inside the World of Christian Reconstruction
Hardcover

* Individual store prices may vary.
Description
For the last several decades, at the far fringes of American evangelical Christianity has stood an intellectual movement known as Christian Reconstruction. The proponents of this movement embrace a radical position: that all of life should be brought under the authority of biblical law as it
is contained in both the Old and New Testaments. They challenge the legitimacy of democracy, argue that slavery is biblically justifiable, and support the death penalty for all manner of crimes described in the Bible including homosexuality, adultery, and Sabbath-breaking. But, as Julie Ingersoll
shows in this fascinating new book, this Biblical Worldview shapes their views not only on political issues, but on everything from private property and economic policy to history and literature. Holding that the Bible provides a coherent, internally consistent, and all-encompassing worldview,
they seek to remake the entirety of society--church, state, family, economy--along biblical lines. Tracing the movement from its mid-twentieth-century origins in the writings of theologian and philosopher R.J. Rushdoony to its present-day sites of influence, including the Christian Home School movement, advocacy for the teaching of creationism, and the development and rise of the Tea Party,
Ingersoll illustrates how Reconstructionists have broadly and subtly shaped conservative American Protestantism over the course of the late-twentieth and early-twenty-first centuries. Drawing on interviews with Reconstructionists themselves as well as extensive research in Reconstructionist
publications, Building God's Kingdom offers the most complete and balanced portrait to date of this enigmatic segment of the Christian Right.

Oxford University Press, USA, 9780199913787, 320pp.
Publication Date: August 3, 2015
About the Author
Julie J. Ingersoll is Associate Professor of Religious Studies at University of North Florida. She is the author of Evangelical Christian Women: War Stories in the Gender Battles (2003).
or
Not Currently Available for Direct Purchase