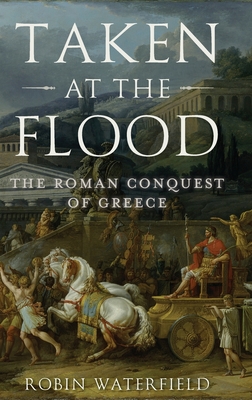 Taken at the Flood
The Roman Conquest of Greece (Ancient Warfare and Civilization)
Hardcover

* Individual store prices may vary.
Other Editions of This Title:
Paperback (11/1/2016)
Description
Is there anyone on earth who is so narrow-minded or uninquisitive that he could fail to want to know how and thanks to what kind of political system almost the entire known world was conquered and brought under a single empire in less than fifty-three years? --Polybius, Histories The 53-year period Polybius had in mind stretched from the start of the Second Punic War in 219 BCE until 167, when Rome overthrew the Macedonian monarchy and divided the country into four independent republics. This was the crucial half-century of Rome's spectacular rise to imperial status, but
Roman interest in its eastern neighbors began a little earlier, with the First Illyrian War of 229, and climaxed later with the infamous destruction of Corinth in 146. Taken at the Flood chronicles this momentous move by Rome into the Greek east. Until now, this period of history has been overshadowed by the threat of Carthage in the west, but events in the east were no less important in themselves, and Robin Waterfield's account reveals the peculiar nature of
Rome's eastern policy. For over seventy years, the Romans avoided annexation so that they could commit their military and financial resources to the fight against Carthage and elsewhere. Though ultimately a failure, this policy of indirect rule, punctuated by periodic brutal military interventions
and intense diplomacy, worked well for several decades, until the Senate finally settled on more direct forms of control. Waterfield's fast-paced narrative focuses mainly on military and diplomatic maneuvers, but throughout he interweaves other topics and themes, such as the influence of Greek culture on Rome, the Roman aristocratic ethos, and the clash between the two best fighting machines the ancient world ever
produced: the Macedonian phalanx and Roman legion. The result is an absorbing account of a critical chapter in Rome's mastery of the Mediterranean.

Oxford University Press, USA, 9780199916894, 312pp.
Publication Date: April 7, 2014
About the Author
Robin Waterfield is an independent scholar, living in southern Greece. In addition to more than 25 translations of works of Greek literature, he is the author of numerous books, most recently Dividing the Spoils: The War for Alexander the Great's Empire.
or
Not Currently Available for Direct Purchase