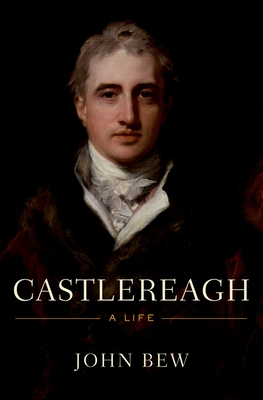 Castlereagh (Hardcover)
A Life
Oxford University Press, USA, 9780199931590, 722pp.
Publication Date: September 1, 2012
* Individual store prices may vary.
Description
Hardly is a figure more maligned in British history than Robert Stewart, Viscount Castlereagh. One of the central figures of the Napoleonic Era and the man primarily responsible for fashioning Britain's strategy at the Congress of Vienna, Castlereagh was widely respected by the great powers of Europe and America, yet despised by his countrymen and those he sought to serve. A shrewd diplomat, he is credited with being one of the first great practitioners of Realpolitik and its cold-eyed and calculating view of the relations between nations. Over the course of his career, he crushed an Irish rebellion and abolished the Irish parliament, imprisoned his former friends, created the largest British army in history, and redrew the map of Europe. Today, Castlereagh is largely forgotten except as a tyrant who denied the freedoms won by the French and American revolutions. John Bew's fascinating biography restores the statesman to his place in history, offering a nuanced picture of a shy, often inarticulate figure whose mind captured the complexity of the European Enlightenment unlike any other. Bew tells a gripping story, beginning with the Year of the French, when Napoleon sent troops in support of a revolution in Ireland, and traces Castlereagh's evolution across the Napoleonic Wars, the diplomatic power struggles of 1814-15, and eventually the mental breakdown that ended his life. Skillfully balancing the dimensions of Castlereagh's intellectual life with his Irish heritage, Bew's definitive work brings Castleragh alive in all his complexity, variety, and depth.

About the Author
John Bew is Reader in History and Foreign Policy at the War Studies Department at King's College London. He is also Director of the International Centre for the Study of Radicalisation and Political Violence and runs the Foreign Policy Research Group at King's. He writes for the Irish Times, London Review of Books, Spectator, Parliamentary Brief, Standpoint and Times Higher Education Supplement. This is his fourth book.