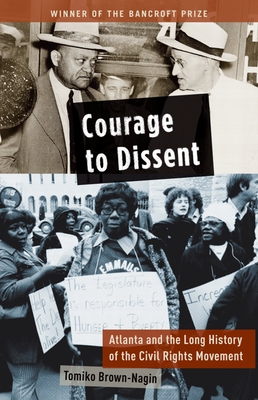 Courage to Dissent (Paperback)
Atlanta and the Long History of the Civil Rights Movement
Oxford University Press, USA, 9780199932016, 578pp.
Publication Date: September 1, 2012
* Individual store prices may vary.
Description
In this Bancroft Prize-winning history of the Civil Rights movement in Atlanta from the end of World War II to 1980, Tomiko Brown-Nagin shows that long before "black power" emerged and gave black dissent from the mainstream civil rights agenda a name, African Americans in Atlanta questioned the meaning of equality and the steps necessary to obtain a share of the American dream. This groundbreaking book uncovers the activism of visionaries--both well-known figures and unsung citizens--from across the ideological spectrum who sought something different from, or more complicated than, "integration." Local activists often played leading roles in carrying out the agenda of the NAACP, but some also pursued goals that differed markedly from those of the venerable civil rights organization. Brown-Nagin documents debates over politics, housing, public accommodations, and schools. Exploring the complex interplay between the local and national, between lawyers and communities, between elites and grassroots, and between middle-class and working-class African Americans, Courage to Dissent transforms our understanding of the Civil Rights era.

About the Author
Tomiko Brown-Nagin is Professor of Law at Harvard Law School. She also is Professor of History, affiliated with Harvard University's Department of History. Brown-Nagin earned a law degree from Yale University, where she was an editor of the Yale Law Journal, and a doctorate in history from Duke University.