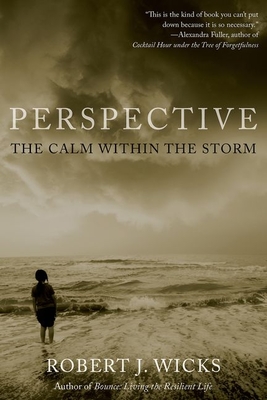 Perspective: The Calm Within the Storm (Hardcover)
The Calm Within the Storm
Oxford University Press, USA, 9780199944552, 280pp.
Publication Date: March 3, 2014
Description
How we see the world and ourselves is more important than what we see or have. Our perspectives are what matter. Classic wisdom literature has emphasized this for generations and clinical psychology has followed suit from its inception. In essence, living with a healthy perspective is truly tantamount to possessing the proverbial "psychological pearl of great price." Knowing this, Robert J. Wicks, world-renowned psychologist and author of Bounce: Living the Resilient Life, has assembled and offered readers the most current and powerful approaches to discovering and regaining a balanced, healthy perspective that modern psychology has to offer. In Perspective, Wicks combines top research with classic wisdom, providing accessible, practical advice to his readers. In a lively tone, he guides them through strategies on: -Understanding how the psychology of gratitude and happiness can help you perceive the beneficial things already in your life -Seeing yourself more completely through the lens of cognitive behavioral therapy, positive psychology, and narrative therapy -Overcoming resistances to openness so that beneficial, needed change becomes more possible -Following a reflective regimen that can help you maintain a healthy perspective each day Wicks reveals that gaining a healthy, positive perspective will help us become the calm within the storm. Our newfound perspective will enable us to enjoy enriching experiences, maintain balance, and reach out to others without being pulled down in the process.
About the Author
Robert J. Wicks received his doctorate in psychology from Hahnemann Medical College and Hospital and is on the faculty of Loyola University, Maryland. He has published more than 50 books for professionals and the general public, including Bounce: Living the Resilient Life; Riding the Dragon; The Inner Life of the Counselor; and Streams of Contentment. Dr. Wicks has lectured on the importance of resilience and possessing a healthy perspective in Hanoi, Beijing, Budapest, Belfast, and Johannesburg as well as at the Mayo Clinic, Harvard's Children's Hospital and Harvard Divinity School, Johns Hopkins School of Medicine, the U.S. Air Force Academy, and on Capitol Hill to members of Congress and their chiefs of staff. He has received the Humanitarian of the Year Award from the American Counseling Association's Division on Spirituality, Ethics, and Values and in 2006 was recipient of the first annual Alumni Award for Excellence in Professional Psychology from Widener University.
Advertisement