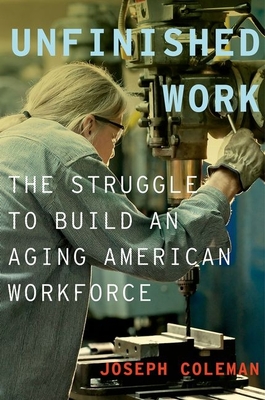 Unfinished Work
The Struggle to Build an Aging American Workforce
Hardcover

* Individual store prices may vary.
Description
The era of the aging worker is here. The forces driving the first decades of the 21st century -- globalization, technology, societal aging, and jarring economic instability -- have made later retirement a necessity for many, but those who choose to stay in the workforce are frustrated by a job market that fails to take advantage of their talents. As government's ability to finance retirement and health care declines, making space for older workers in the labor force has emerged as a chief challenge for the coming century. Veteran international correspondent Joseph Coleman spent three years traveling to various places in Japan, France, Sweden, and across the United States to profile this aging global workforce. From the rice paddies of Japan to the heart of the American rust-belt, Coleman takes readers inside the lives of older workers. Clear-eyed portraits of individuals illuminate the aging of the world labor force and introduce readers to the factories, offices, and fields where older workers toil and the societies in which they live. Unfinished Work explores a world in the midst of a revolution that will have far-reaching consequences for present and coming generations. Coleman maps out the problems we confront, shows us avenues forward, and illustrates the dangers of inaction. The engaging narrative reveals how accommodating our aging workforce can usher in humane policies that benefit workers across the spectrum of age. Improving conditions for older workers is critical for ensuring success and prosperity for society as a whole for years to come.

Oxford University Press, USA, 9780199974450, 256pp.
Publication Date: February 2, 2015
About the Author
Joseph Coleman has been a journalist for more than two decades, spending most of that time as a foreign correspondent for Associated Press, including 11 years in Japan. He's reported from more than 20 countries throughout Asia, Europe, and Latin America, covering stories ranging from the Colombian government's battle with the Medellin drug cartel to the Kobe earthquake, the Asian tsunami, and global warming. A graduate of Vassar College and Columbia University, Coleman is the Roy W. Howard Professor of Practice in the Indiana University Media School.
or
Not Currently Available for Direct Purchase