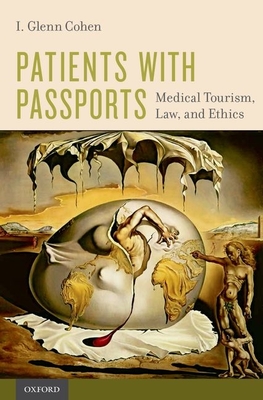 Patients with Passports
Medical Tourism, Law, and Ethics
Hardcover

* Individual store prices may vary.
Other Editions of This Title:
Paperback (11/12/2014)
Description
Can your employer require you to travel to India for a hip replacement as a condition of insurance coverage? If injury results, can you sue the doctor, hospital or insurer for medical malpractice in the country where you live? Can a country prohibit its citizens from helping a relative travel
to Switzerland for assisted suicide? What about travel for abortion? In Patients with Passports, I. Glenn Cohen tackles these important questions, and provides the first comprehensive legal and ethical analysis of medical tourism. Medical tourism is a growing multi-billion dollar industry involving millions of patients who travel abroad each year to get health care. Some seek legitimate services like hip replacements and travel to avoid queues, save money, or because their insurer has given them an incentive to do so. Others
seek to circumvent prohibitions on accessing services at home and go abroad to receive abortions, assisted suicide, commercial surrogacy, or experimental stem cell treatments. In this book, author I. Glenn Cohen focuses on patients traveling for cardiac bypass and other legal services to places like India, Thailand, and Mexico, and analyzes issues of quality of care, disease transmission, liability, private and public health insurance, and the effects of this trade on
foreign health care systems. He goes on to examine medical tourism for services illegal in the patient's home country, such as organ purchase, abortion, assisted suicide, fertility services, and experimental stem cell treatments. Here, Cohen examines issues such as extraterritorial criminalization,
exploitation, immigration, and the protection of children. Through compelling narratives, expert data, and industry explanations Patients with Passports enables the reader to connect with the most prevalent legal and ethical issues facing medical tourism today.

Oxford University Press, USA, 9780199975099, 528pp.
Publication Date: November 12, 2014
About the Author
I. Glenn Cohen is Professor of Law at Harvard Law School, and Director of the Petrie-Flom Center for Health Law Policy, Biotechnology, and Bioethics. He is one of the world's leading experts on the intersection of bioethics (or medical ethics), and the law, as well as health law. He also teachescivil procedure. Prior to becoming a professor, he served as a law clerk to Judge Michael Boudin of the U.S. Court of Appeals for the First Circuit and as a lawyer for U.S. Department of Justice, Civil Division, Appellate Staff, where he handled litigation in the Courts of Appeals and in the U.S.Supreme Court. He was selected as a Radcliffe Institute Fellow (2012-2013) and by the Greenwall Foundation to receive a Faculty Scholar Award in Bioethics. He also leads the Ethics and Law initiative as part of the multi-million dollar NIH funded Harvard Catalyst for The Harvard Clinical andTranslational Science Center program. Professor Cohen is the author of more than 60 articles and chapters, and his award-winning work has appeared in leading legal law review journals including: Stanford, Cornell, and Southern California; medical journals including the New England Journal ofMedicine, and JAMA; bioethics journals including the American Journal of Bioethics, the Hastings Center Report; and for public health, the American Journal of Public Health. He is the editor of The Globalization of Health Care: Legal and Ethical Issues (Oxford University Press, 2013).
or
Not Currently Available for Direct Purchase