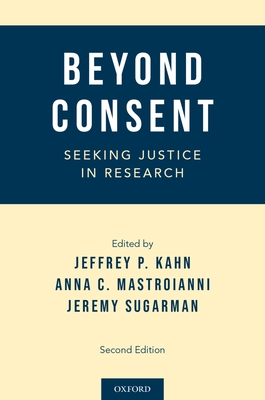 Beyond Consent
Seeking Justice in Research
Paperback

* Individual store prices may vary.
Description
Justice is foundational to discussion, debate, and policy making surrounding biomedical research. Time-tested for more than 20 years, Beyond Consent examines the concept of justice and its application to research with human subjects, through multiple lenses of research populations of people who are sick (including those needing emergency medical care), cognitively impaired, children, captive and convenient (such as prisoners), women, racial minorities, communities, and living in international settings. This second edition includes new chapters on today's leading-edge topics as well as updated chapters that consider what has changed, and what new matters have arisen. The result is a fresh treatment of the latest issues and concepts of justice in research examined by multidisciplinary scholars. This volume is a vital resource for students and scholars of bioethics, medicine, and public health policy; as well as for members of institutional review boards, research administrators, and policy makers.

Oxford University Press, USA, 9780199990689, 248pp.
Publication Date: May 17, 2018
About the Author
Anna C. Mastroianni is Professor of Law, School of Law and Institute for Public Health Genetics, University of Washington; Jeffrey P. Kahn is Andreas C. Dracopoulos Director of Johns Hopkins Berman Institute of BioethicsJeremy Sugarman is Harvey M. Meyerhoff Professor of Bioethics and Medicine, Johns Hopkins University Berman Institute of Bioethics and School of Medicine