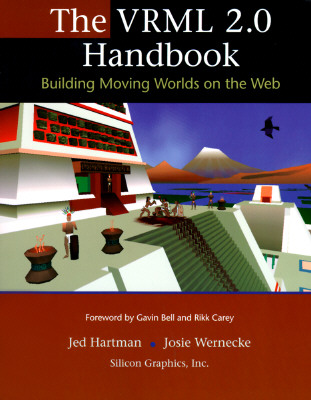 The VRML 2.0 Handbook
Paperback

* Individual store prices may vary.
Description
Version 2.0 of the Virtual Reality Modeling Language allows world designers to create interactive animated 3D virtual worlds. The VRML 2.0 Handbook guides readers through the development of such a world, using a VRML reconstruction of the Aztec city Tenochtitlan. This guide offers practical, platform-independent tips and examples from the experts at Silicon Graphics, Inc., leaders in formulating and developing VRML. Detailed examples and diagrams provide a solid foundation in VRML 2.0 for a wide range of content creators, from artists and designers with little programming background to seasoned computer experts with modest graphics skills. With VRML 2.0, you can create robots and people that walk and run, dogs that bark, and gurgling streams. You can design objects that react to user actions, such as doors that open when clicked. You can include sensors that respond when the user approaches a certain area--triggering an alarm, for instance, or starting an animation. This handbook explains how to use all of VRML 2.0s features, including: *movies and 3D sounds *visual effects such as fog and scenic panoramas with mountains, plains, or cityscapes *collision detection, which prevents u.
Addison-Wesley Professional, 9780201479447, 448pp.
Publication Date: October 20, 1996
About the Author
Jed Hartman has written about the OpenGL(TM) graphics library and IRIS Performer, as well as other developer tools, at Silicon Graphics, Inc. Josie Wernecke, also a member of the Silicon Graphics staff, is the author of The Inventor Mentor and The Inventor Toolmaker and has written extensively about Open Inventor(TM) and other 3D graphics products. Jed Hartman has written about the OpenGL(TM) graphics library and IRIS Performer, as well as other developer tools, at Silicon Graphics, Inc. Josie Wernecke, also a member of the Silicon Graphics staff, is the author of The Inventor Mentor and The Inventor Toolmaker and has written extensively about Open Inventor(TM) and other 3D graphics products. Delle Maxwell, award-winning animator and graphic designer, developed the Tenochtitlan site described in the book from a model created by Bob Galbraith of Computer Graphics. Silicon Graphics, Inc., is a leading manufacturer of 3D graphics workstations and a developer of 3D graphics and imaging software. 0201479443AB04062001
or
Not Currently Available for Direct Purchase