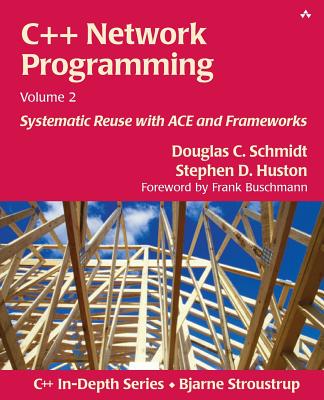 C++ Network Programming, Volume 2 (Paperback)
Systematic Reuse with Ace and Frameworks (C++ In-Depth)
Addison-Wesley Professional, 9780201795257, 384pp.
Publication Date: November 8, 2002
Other Editions of This Title:
Paperback (12/20/2001)
* Individual store prices may vary.
Description
Do you need to develop flexible software that can be customized quickly? Do you need to add the power and efficiency of frameworks to your software? The ADAPTIVE Communication Environment (ACE) is an open-source toolkit for building high-performance networked applications and next-generation middleware. ACE's power and flexibility arise from object-oriented frameworks, used to achieve the systematic reuse of networked application software. ACE frameworks handle common network programming tasks and can be customized using C++ language features to produce complete distributed applications.
C++ Network Programming, Volume 2, focuses on ACE frameworks, providing thorough coverage of the concepts, patterns, and usage rules that form their structure. This book is a practical guide to designing object-oriented frameworks and shows developers how to apply frameworks to concurrent networked applications. C++ Networking, Volume 1, introduced ACE and the wrapper facades, which are basic network computing ingredients. Volume 2 explains how frameworks build on wrapper facades to provide higher-level communication services.
Written by two experts in the ACE community, this book contains:
An overview of ACE frameworks
Design dimensions for networked services
Descriptions of the key capabilities of the most important ACE frameworks
Numerous C++ code examples that demonstrate how to use ACE frameworks
C++ Network Programming, Volume 2, teaches how to use frameworks to write networked applications quickly, reducing development effort and overhead. It will be an invaluable asset to any C++ developer working on networked applications.
About the Author
Dr. Douglas C. Schmidt is the original developer of ACE and The ACE ORB (TAO). He is a Professor at Vanderbilt University, where he studies patterns, optimizations, middleware, and model-based tools for distributed real-time and embedded systems. He is a former editor-in-chief of C++ Report and columnist for C/C++ Users Journal. Stephen D. Huston is President and CEO of Riverace Corporation, a provider of technical support and consulting services to companies who want to keep software projects on track using ACE. Steve has nearly ten years of experience with ACE, and more than twenty years of software development experience, focusing on network protocol and C++ networked application development in a wide range of hardware and software environments.