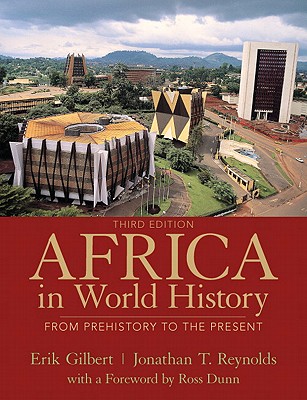 Africa in World History (Paperback)
Pearson, 9780205053995, 480pp.
Publication Date: July 4, 2011
* Individual store prices may vary.
Description
Provides a view of African history in the wider context of world history. Africa in World History is the first comprehensive survey to illustrate how Africans have influenced regions beyond their continent's borders, how they have been influenced from the outside and how internal African developments can be compared to those elsewhere in the world. By identifying and presenting key debates within the field of African history, this volume encourages students to confront the many oversimplified myths regarding Africa and its people.

About the Author
Erik Gilbert was born in Fairfax, Virginia. He and his family moved to Ghana in 1966, when he was two years old. He subsequently lived in Nigeria, Cameroun and Tanzania. He did his undergraduate work at the College of William and Mary, where he studied ancient Greek. After a short stint as an ice cream scooper, bartender and ski bum, he went to the University of Vermont where he received an M.A. in history. He then moved to Boston University where he received a Ph.D. in African history in 1997. His research has focused primarily on coastal East Africa and Indian Ocean trade. Indian Ocean research has taken him to Zanzibar on a Fulbright scholarship, to Yemen (where in addition to doing research in the ports, he studied Arabic at the Yemen Language Center) and to Kenya. He has taught at Casdeton State College, the University of Vermont and is currently an associate professor of history at Arkansas State University. Jonathan T. Reynolds completed his undergraduate work at the University of Tennesse in 1988 with majors in honors history, anthropology and ancient Mediterranean civilizations. He completed his Ph.D. in African history at Boston University in 1995. A specialist in West Africa and Islam, he has traveled extensively in the region since 1990-including an unsuccessful attempt at driving across the Sahara in a British car in 1994. His research has been supported by the Fulbright Foundation and the West Africa Research Association. He has taught at Bayero University, the University of Tennessee, Livingstone College (where he received the Aggrey Award for Excellence in Teaching in 1998) and Northern Kentucky University (where he received the Outstanding Junior Faculty Award in 2001). He served as the coordinator for the Southeastern Regional Seminar on African Studies from 1997 to 2000. Dr. Reynolds currently holds the rank of associate professor of history at Northern Kentucky University.
or
Not Currently Available for Direct Purchase