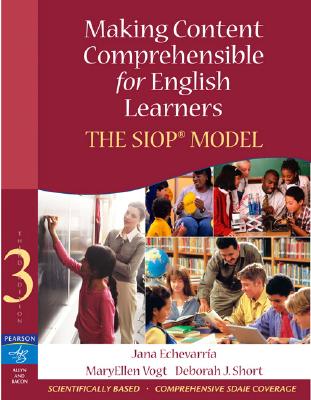 Making Content Comprehensible for English Learners (Paperback)
The SIOP Model [With DVD]
Allyn & Bacon, 9780205518869, 268pp.
Publication Date: May 1, 2007
* Individual store prices may vary.
Description
One of the most influential books in the field in years "Making Content Comprehensible for English Learners: The SIOP(R) Model "presents a coherent, specific, field-tested model of sheltered instruction that specifies the features of a high quality sheltered lesson that teaches content material to English language learners. For twelve years, educators have turned to Jana Echevarria, MaryEllen Vogt, and Deborah Short for an empirically validated model of sheltered instruction. In the Third Edition of this best-seller, the authors include new research findings and studies on the Sheltered Instruction Observation Protocol (SIOP(R)) Model, which offers school administrators, teachers, teacher candidates, coaches, university faculty, and field experience supervisors a tool for observing and quantifying a teacher's implementation of quality sheltered instruction. Ringing Endorsements "A framework that will engage, support, and increase the academic achievement of our culturally and linguistically diverse students. The SIOP Model went] from good to great " "-Socorro Herrera, Kansas State University" "Readability, organization, and practicality The SIOP addresses precisely the needs that my beginning teachers face...the CD for SIOP...makes it all understandable. I love the book " "-Danny Brassell, California State University, Dominguez Hills" Take a Glimpse Inside the Third Edition:
New, user-friendly format of the SIOP(R) protocol.
Background Sections include descriptions of the eight components and thirty features of the SIOP(R) Model, and are updated to reflect recent research and best practices to help readers plan and prepare effective sheltered lessons.
Practical Guidelines to help readers develop effective language and content objectives.
Discussion Questions have been rewritten and are appropriate for portfolio development in pre-service and graduate classes, for professional development workshops, or for teacher reflection and application.
A groundbreaking CD-ROM with video clips, interviews of the authors, and reproducible resources (e.g., lesson plan formats), make this the perfect professional development asset for any grade level or content area teacher
About the Author
Deborah J. Short is a professional development consultant and a senior research associate at the Center for Applied Linguistics in Washington, DC. She co-developed the SIOP(R) Model for sheltered instruction and has directed national research studies on English language learn-ers funded by the Carnegie Corporation, the Rockefeller Foundation, and the U.S. Dept. of Education. She recently chaired an expert panel on adolescent ELL literacy. As the director of Academic Language Research & Training, Dr. Short provides professional development on sheltered instruction and academic literacy around the U.S. and abroad. She has numerous publications, including the SIOP(R) book series and five ESL textbook series for National Geographic/Hampton-Brown. She has taught English as a second/foreign language in New York, California, Virginia, and the Democratic Republic of Congo. Jana Echevarria is a Professor Emerita at California State University, Long Beach. She has taught in elementary, middle, and high schools in general education, special education, ESL, and bilingual programs. She has lived in Taiwan, Spain and Mexico. An internationally known expert on second language learners, Dr. Echevarria is a Fulbright Specialist. Her research and publications focus on effective instruction for English learners, including those with learning disabilities. Currently, she is Co-Principal Investigator with the Center for Research on the Educational Achievement and Teaching of English Language Learners (CREATE) funded by the U.S. Department of Education, Institute of Education Sciences (IES). In 2005, Dr. Echevarria was selected as Outstanding Professor at CSULB.

MaryEllen Vogt, Ed.D., is Professor Emerita of Education at California State University, Long Beach. MaryEllen has been a classroom teacher, reading specialist, special education specialist, curriculum coordinator, and university teacher educator. She received her doctorate from the University of California, Berkeley, and is a co-author of fifteen books, including "Reading Specialists and Literacy Coaches in the "Real "World "(3rd ed., 2011) and the SIOP(R) book series. Her research interests include improving comprehension in the content areas, teacher change and development, and content literacy and language acquisition for English learners. She was inducted into the California Reading Hall of Fame, received her university's Distinguished Faculty Teaching Award, and served as President of the International Reading Association in 2004-2005.
or
Not Currently Available for Direct Purchase