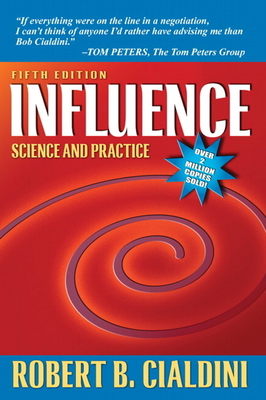 Influence
Science and Practice
Paperback

* Individual store prices may vary.
Description
What are the factors that cause one person to say yes to another person? And which techniques most effectively use these factors to bring about such compliance? In his bestselling book, Robert Cialdini, former salesperson, fundraiser, and advertiser, examines the science and practice of compliance. Praised for its enjoyable writing, practical suggestions, and scientifically documented material, previous editions have been widely read by business professionals, fundraisers, and those interested in psychology. The new Fifth Edition includes twice as many first hand accounts of how principles presented in the book apply to personal lives; updated coverage of popular culture and new technology; and more on how compliance principles work in other cultures.
Pearson, 9780205609994, 260pp.
Publication Date: July 29, 2008
About the Author
Robert B. Cialdini is Regents' Professor of Psychology and Marketing at Arizona State University, where he has also been named W. P. Carey Distinguished Professor of Marketing. He has taught at Stanford University and Harvard's Kennedy School of Government. He has been elected president of the Society of Personality and Social Psychology. He is the recipient of the Distinguished Scientific Achievement Award of the Society for Consumer Psychology, the Donald T. Campbell Award for Distinguished Contributions to Social Psychology, and the (inaugural) Peitho Award for Distinguished Contributions to the Science of Social Influence. Dr. Cialdini attributes his interest in social influences to the fact that he was raised in an entirely Italian family, in a predominantly Polish neighborhood, in a historically German city (Milwaukee), in an otherwise rural state.