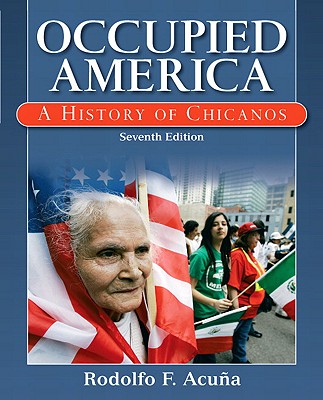 Occupied America (Paperback)
A History of Chicanos
Longman Publishing Group, 9780205786183, 436pp.
Publication Date: January 29, 2010
* Individual store prices may vary.
Description
Authored by one of the most influential and highly-regarded voices of Chicano history and ethnic studies, "Occupied America" is the most definitive introduction to Chicano history. This comprehensive overview of Chicano history is passionately written and extensively researched. With a concise and engaged narrative, and timelines that give students a context for pivotal events in Chicano history, Occupied America illuminates the struggles and decisions that frame Chicano identity today.
About the Author
Rodolfo F. Acuna, the founding chair of Chicano Studies at then San Fernando Valley State -- the largest Chicano Studies Department in the United States with 30 tenured professors -- has authored 19 books, three of which received the Gustavus Myers Award for the Outstanding Book on Race Relations in North America. Acuna has received the Distinguished Scholar Award, National Association for Chicano Studies, the Emil Freed Award for Community Service, Southern California Social Science Library, the Founder's Award for Community Service from the Liberty Hill Foundation among others. Black Issues In Higher Education selected Acuna one of the "100 Most Influential Educators of the 20th Century. Among his best-known books are "Sometimes There is No Other Side: Essays on Truth and Objectivity "(Notre Dame, 1998); "Anything But Mexican: Chicanos in Contemporary Los Angeles." (Verso Press, 1996), "US Latinos: An Inquiry "(Greenwood Press, 2003), "Community Under Siege "(UCLA, 1984), "The Sonoran Strongman" (University of Arizona, 1974). His most recent works include "Corridors of Migration "(Greenwood Press, 2008). "In the Trenches of Academe "is in progress. Acuna has also written three children's books and has another book in production and authored more than 160 academic and public articles in addition to over 140 book reviews. As an activist scholar he has been a leading voice in the Mexican American community.