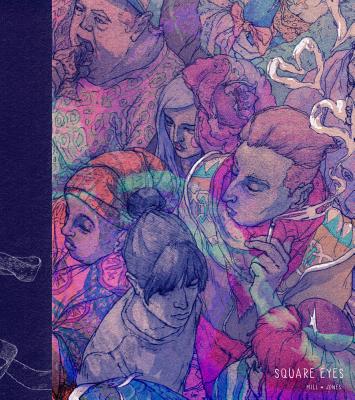 Square Eyes
Hardcover

* Individual store prices may vary.
Description
Look – anyone who invents something really great has a moment where they think it's going to destroy the world.
For the first time in her life, Fin is off the network. A few months ago, she was the inventor of a programme so powerful, so unusual that she was untouchable.
Until she wasn't.
Meanwhile, people have started disappearing from the streets of the city and the technology she created might be implicated.
Square Eyes is a graphic novel about a future where the boundaries between memory, dreams and the digital world start to blur. It's a kaleidoscopic mystery story which asks: in a city built on digital illusion, who really holds the power? What is weakness? And when is it most dangerous?
Praise For Square Eyes…
"The book I keep going back to for its peerless haunting art… is Anna Mill's and Luke Jones's Square Eyes . . . it's utterly confident and audacious in its space, aesthetics, innovation and design, and I could page through it from now until next Christmas with the same sense of wonder. A thing of beauty, indeed." —Spectator

"This exquisite book… may scare you half to death… [but] what truly sets this book apart is its extraordinary illustrations… on every beautiful, teeming, phantasmagorical page… it fairly takes the breath away. " - Rachel Cooke - Observer

"[An] instantly gripping work with an important point to make." - James Smart - Guardian, **Books of the Year**

"A spiky tale set in a dystopian near-future… [Square Eyes] certainly is a wild ride." - Siobhan Murphy - The Times

"A remarkable, prophetic graphic novel debut. Through 286 deliriously colourful pages, [Anna Mill and Luke Jones] plunge us into an all-too-plausible future, where the real and the digital are blurring and dangerous powers want to control them both." —Bookseller

"Whatever you put on your head to stop your mind from exploding, make sure it's fitted properly before immersion in Square Eyes. Just the volume and quality of work alone defies belief, and that's before you get onto the disconcerting psychedelia of the graphics and the story." - - Strong Words

"A big, bleak yet gorgeous dystopia... Square Eyes comes at you in a disorienting rush… This immersive, inventive graphic novel offers its own brand of escapism." —Guardian
Jonathan Cape, 9780224097222, 256pp.
Publication Date: October 4, 2018
About the Author
Anna Mill is a designer and illustrator working on projects which range from postcards and posters to boats and buildings. She and Luke Jones are the joint creators of Square Eyes, originally a short comic entry to the Observer Jonathan Cape Graphic Short Story Prize in 2010. Luke Jones is an architect, lecturer, and co-host of the podcast About Buildings + Cities, exploring architectural history, theory, process and ideas from the distant past to the present day.
 
or
Not Currently Available for Direct Purchase