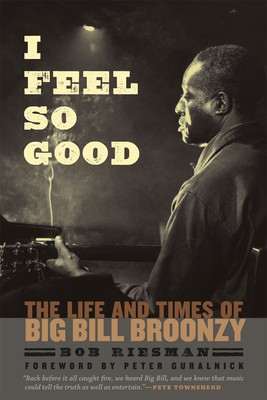 I Feel So Good (Paperback)
The Life and Times of Big Bill Broonzy
University of Chicago Press, 9780226007090, 368pp.
Publication Date: September 22, 2012
* Individual store prices may vary.
Description
A major figure in American blues and folk music, Big Bill Broonzy (1903–1958) left his Arkansas Delta home after World War I, headed north, and became the leading Chicago bluesman of the 1930s. His success came as he fused traditional rural blues with the electrified sound that was beginning to emerge in Chicago. This, however, was just one step in his remarkable journey: Big Bill was constantly reinventing himself, both in reality and in his retellings of it. Bob Riesman's groundbreaking biography tells the compelling life story of a lost figure from the annals of music history.

I Feel So Good traces Big Bill's career from his rise as a nationally prominent blues star, including his historic 1938 appearance at Carnegie Hall, to his influential role in the post-World War II folk revival, when he sang about racial injustice alongside Pete Seeger and Studs Terkel. Riesman's account brings the reader into the jazz clubs and concert halls of Europe, as Big Bill's overseas tours in the 1950s ignited the British blues-rock explosion of the 1960s. Interviews with Eric Clapton, Pete Townshend, and Ray Davies reveal Broonzy's profound impact on the British rockers who would follow him and change the course of popular music.

Along the way, Riesman details Big Bill's complicated and poignant personal saga: he was married three times and became a father at the very end of his life to a child half a world away. He also brings to light Big Bill's final years, when he first lost his voice, then his life, to cancer, just as his international reputation was reaching its peak. Featuring many rarely seen photos, I Feel So Good will be the definitive account of Big Bill Broonzy's life and music.
About the Author
Bob Riesman
is coeditor of
Chicago Folk: Images of the Sixties Music Scene: The Photographs of Raeburn Flerlage
. He produced and cowrote the television documentary
American Roots Music: Chicago
, and was a contributor to Routledge's
Encyclopedia of the Blues.
Praise For I Feel So Good: The Life and Times of Big Bill Broonzy…
"Mr. Riesman's detailed biography should remind some of today's musical millionaires and their fans of the debt they owe to a player whose first instrument was a corn-stalk fiddle."
— Wall Street Journal
"He was one of the most celebrated blues artists of his era, a visionary Chicago singer-songwriter who mentored Muddy Waters, introduced the music to Europe and inspired no less than Eric Clapton, Ray Davies and Pete Townshend (as they've all acknowledged).
But Big Bill Broonzy has been virtually forgotten by the popular culture he helped shape. . . . Which is why an important new book, I Feel So Good: The Life and Times of Big Bill Broonzy, comes not a moment too soon. In its pages, author Bob Riesman pieces together fragments of a hitherto under-documented life, giving Broonzy's achievements the honor they deserve."
— Howard Reich
"Big Bill Broonzy was a towering figure in music during his lifetime, a blues singer, guitarist, and songwriter who mentored and influenced everyone from Muddy Waters to Eric Clapton. Author Bob Riesman was shocked, then, to realize that a definitive biography hadn't been written about Broonzy. Riesman finally remedies that with his thoughtful new book, "I Feel So Good: The Life and Times of Big Bill Broonzy,'' a labor of love that took him 10 years to complete."
— Boston Globe
"Riesman does an excellent job of sifting through conflicting accounts of Broonzy's marital and workforce history, often presenting multiple sides of the tales. He used a bewildering array of sources to help draw his conclusions, going through numerous archives, museums and music societies, as well as talking to those who were there for another point of view. . . . This book perceptively tells it all."
— Downbeat
"Wonderful. . . . With skill and sensitivity, Riesman has traced [Big Bill Broonzy's] scattered families and friends, and the letters, photographs and tapes they preserved, to fashion an intricately stitched patchwork of a life, and one of the great blues biographies."
— MOJO
"Compelling. . . . An important contribution to the literature of the blues as well as Chicago musical history."
— Booklist (starred review)
"This book sets Bill's extraordinary life and career in meticulously researched perspective. . . . If rock 'n' roll and all its recent spawn can in any sense be regarded as art, or carries any social meaning, or transmits reflective or historical relevance to those who love it, this book will help to explain why."
— Pete Townshend
"Bob Riesman has dug hard and deep into a world and a community to which few outsiders have been granted entrance. . . . This is the kind of book so engaging it simply leaves you wanting more."
— Peter Guralnick, from the Foreword
"Big Bill Broonzy was one of the most influential African American blues artists in the 1930s and 1940s and the leading figure in the spread of blues to Europe in the 1950s. Up to now, much of his life has been shrouded in mystery and fable, largely created by Broonzy himself. Bob Riesman's book lifts the veil and reveals a life that was every bit as interesting as the legend."
— David Evans, author The NPR Curious Listener's Guide to the Blues
"I knew Big Bill Broonzy in the 1940s and '50s, near the end of his life. He was a great man, and one of the great musical artists of the twentieth century, as well as an intellectual, a term usually given to college people. I think he was genuinely reaching out all his life to different people. If it's possible to put his story into words, Bob Riesman has done it in this book."
— Pete Seeger
"Interesting and thorough. . . . Riesman has given readers a deeper understanding of Broonzy's astonishing achievements and how his legacy affected the social and musical landscape thereafter."
— All About Jazz
"After reading this biography, I have ungrudging affection and respect for Big Bill, admiration for his skills and acceptance of his foibles."
— Boston Blues Society
"I Feel So Good is a worthy tribute to a fine artist."
— Literary Review
"With the fascinating and well-researched story Riesman tells in I Feel So Good, one wonders why the world does not know more about this bluesman."
— Express Milwaukee
or
Not Currently Available for Direct Purchase