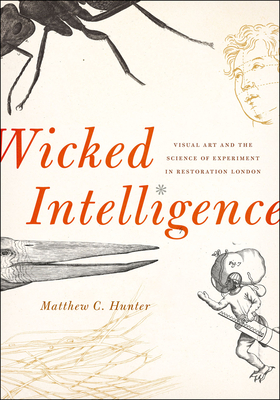 Wicked Intelligence: Visual Art and the Science of Experiment in Restoration London (Hardcover)
Visual Art and the Science of Experiment in Restoration London
University of Chicago Press, 9780226017297, 329pp.
Publication Date: October 15, 2013
* Individual store prices may vary.
or
Not Currently Available for Direct Purchase
Description
In late seventeenth-century London, the most provocative images were produced not by artists, but by scientists. Magnified fly-eyes drawn with the aid of microscopes, apparitions cast on laboratory walls by projection machines, cut-paper figures revealing the exact proportions of sea monsters all were created by members of the Royal Society of London, the leading institutional platform of the early Scientific Revolution. Wicked Intelligence reveals that these natural philosophers shaped Restoration London's emergent artistic cultures by forging collaborations with court painters, penning art theory, and designing triumphs of baroque architecture such as St Paul's Cathedral.Matthew C. Hunter brings to life this archive of experimental-philosophical visualization and the deft cunning that was required to manage such difficult research. Offering an innovative approach to the scientific image-making of the time, he demonstrates how the Restoration project of synthesizing experimental images into scientific knowledge, as practiced by Royal Society leaders Robert Hooke and Christopher Wren, might be called wicked intelligence. Hunter uses episodes involving specific visual practices for instance, concocting a lethal amalgam of wax, steel, and sulfuric acid to produce an active model of a comet to explore how Hooke, Wren, and their colleagues devised representational modes that aided their experiments. Ultimately, Hunter argues, the craft and craftiness of experimental visual practice both promoted and menaced the artistic traditions on which they drew, turning the Royal Society projects into objects of suspicion in Enlightenment England.The first book to use the physical evidence of Royal Society experiments to produce forensic evaluations of how scientific knowledge was generated, Wicked Intelligence rethinks the parameters of visual art, experimental philosophy, and architecture at the cusp of Britain's imperial power and artistic efflorescence.
About the Author
Matthew C. Hunteris assistant professor in the Department of Art History and Communication Studies at McGill University. He is coeditor of Beyond Mimesis and Convention: Representation in Art and Science and The Clever Object and an editor of Grey Room.In 2016, he received theArthur Kingsley Porter Prize."
Advertisement