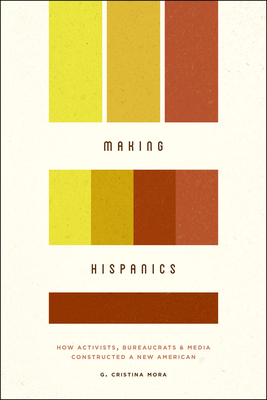 Making Hispanics
How Activists, Bureaucrats, and Media Constructed a New American
Hardcover

* Individual store prices may vary.
Other Editions of This Title:
Paperback (3/7/2014)
Description
How did Puerto Ricans, Mexicans, and Cubans become known as "Hispanics" and "Latinos" in the United States? How did several distinct cultures and nationalities become portrayed as one? Cristina Mora answers both these questions and details the scope of this phenomenon in Making Hispanics. She uses an organizational lens and traces how activists, bureaucrats, and media executives in the 1970s and '80s created a new identity category—and by doing so, permanently changed the racial and political landscape of the nation.

Some argue that these cultures are fundamentally similar and that the Spanish language is a natural basis for a unified Hispanic identity. But Mora shows very clearly that the idea of ethnic grouping was historically constructed and institutionalized in the United States. During the 1960 census, reports classified Latin American immigrants as "white," grouping them with European Americans. Not only was this decision controversial, but also Latino activists claimed that this classification hindered their ability to portray their constituents as underrepresented minorities. Therefore, they called for a separate classification: Hispanic. Once these populations could be quantified, businesses saw opportunities and the media responded. Spanish-language television began to expand its reach to serve the now large, and newly unified, Hispanic community with news and entertainment programming. Through archival research, oral histories, and interviews, Mora reveals the broad, national-level process that led to the emergence of Hispanicity in America.
Praise For Making Hispanics: How Activists, Bureaucrats, and Media Constructed a New American…
"Mora has written an excellent and scholarly contribution to our understanding of the origins of the concept of 'Hispanic' and 'Latino.'  It is a nuanced study that eschews political correctness, whether of the Left or Right, and instead documents the politics of ethnic labeling and identity."
— Mario T. García

"Today, Americans celebrate, describe, or worry about the growing Hispanic population. But if not for the actions of diverse individuals in the 1970s and 1980s, that population would probably be understood in other ways.  Based on extensive archival research and interviews with these individuals, Mora deftly shows how similar-minded activists, business interests, and others worked to construct and institutionalize the new ethno-racial category known as Hispanic, which has since become a widely-accepted form of identification and classification."
— Edward Telles

"It is tempting to think of cultural change as something that just happens. Mora examines one of the most important cultural changes of our time – the embrace of Hispanic identity by millions of Americans who previously thought of themselves in terms of national origin, and the embedding of that self-understanding in the daily routine operations of organizations as diverse as ad agencies, political parties, TV stations, and census bureaus, and demonstrates the complex range of interacting actors and motives behind this transformation.   Making Hispanics is not just a signal contribution to the study of ethnic and racial formation – it is a model and masterpiece of institutional analysis."
— Paul DiMaggio

"A compelling work of scholarship that is appealing to students of ethnic identity, sociology and organizational theory."

— Hayagreeva Rao

"How did a US population as nationally, ethnically, and socially diverse as today's 55 million people of Latin American descent, come to be known as 'Hispanics' in the United States? In this well-written and thoroughly researched book, Mora carefully and successfully traces the history and combined efforts of activists, bureaucrats, and the mainstream media to construct this 'ethnic group'—and to convince its members to identify as Hispanics in the United States. Making Hispanics is essential reading for anyone interested in the popularization and acceptance of panethnicity as a significant force in US politics and society to this day."
— Suzanne Oboler

"Well researched. . . . Berkeley sociologist Mora's archival research unearths the confluence of important organizations and US institutions that together created a new brand of Americans who are still on the cusp of being accepted as full members of the US community. . . . Recommended."
— Choice

"A model and masterpiece. . . . No more is needed, except of course the exceptional talent of a Mora, to produce this (almost) perfect work of sociology . . .  Mora's is an American story twice over, which should be heeded in a Europe that, to paraphrase LBJ, still prefers to 'trash' its immigrants."
— European Journal of Sociology
University of Chicago Press, 9780226033662, 256pp.
Publication Date: March 7, 2014
About the Author
G. Cristina Mora is assistant professor of sociology at the University of California, Berkeley.

or
Not Currently Available for Direct Purchase