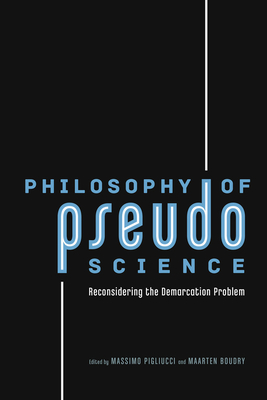 Philosophy of Pseudoscience (Hardcover)
Reconsidering the Demarcation Problem
University of Chicago Press, 9780226051796, 480pp.
Publication Date: August 16, 2013
Other Editions of This Title:
Paperback (8/16/2013)
* Individual store prices may vary.
Description
What sets the practice of rigorously tested, sound science apart from pseudoscience? In this volume, the contributors seek to answer this question, known to philosophers of science as "the demarcation problem." This issue has a long history in philosophy, stretching as far back as the early twentieth century and the work of Karl Popper. But by the late 1980s, scholars in the field began to treat the demarcation problem as impossible to solve and futile to ponder. However, the essays that Massimo Pigliucci and Maarten Boudry have assembled in this volume make a rousing case for the unequivocal importance of reflecting on the separation between pseudoscience and sound science.
            Moreover, the demarcation problem is not a purely theoretical dilemma of mere academic interest: it affects parents' decisions to vaccinate children and governments' willingness to adopt policies that prevent climate change. Pseudoscience often mimics science, using the superficial language and trappings of actual scientific research to seem more respectable. Even a well-informed public can be taken in by such questionable theories dressed up as science. Pseudoscientific beliefs compete with sound science on the health pages of newspapers for media coverage and in laboratories for research funding. Now more than ever the ability to separate genuine scientific findings from spurious ones is vital, and The Philosophy of Pseudoscience provides ground for philosophers, sociologists, historians, and laypeople to make decisions about what science is or isn't.  
About the Author
Massimo Pigliucci is professor of philosophy at the City University of New York. He has written many books, including Nonsense on Stilts: How to Tell Science from Bunk and, most recently, Answers for Aristotle: How Science and Philosophy Can Lead Us to a More Meaningful Life. Maarten Boudry is a postdoctoral fellow of the Flemish Fund for Scientific Research at Ghent University and wrote a dissertation on pseudoscience, Here Be Dragons: Exploring the Hinterland of Science.  
Praise For Philosophy of Pseudoscience: Reconsidering the Demarcation Problem…
"The problem of demarcation—distinguishing credible science from pseudoscience—is a crucial one, but one that has generally been neglected in recent philosophy of science. It is the issue that underlies such topical debates as that between evolutionists and creationists or intelligent design theorists, for example. This volume does a great service by bringing an impressive range of leading philosophers of science from a wide variety of perspectives to reconsider the issue. It is much to be hoped that its publication will spark a revival of interest in this vital issue." 
— John Dupre
"Philosophy of Pseudoscience is a remarkable contribution to one of the most vexing problems in science: the 'demarcation' problem, or how to distinguish science from nonscience. The well-designed diversity of topics and the collective breadth of knowledge of the authors make this book the most comprehensive and authoritative treatise on a majority of the traditional and current demarcation issues. . . . You have a jewel in your hands." 
— Francisco J. Ayala
"A manual to overcome our natural cognitive biases."
— Corriere della Sera (Italy)
"If the philosophical problem of demarcating science from pseudoscience has a stale reputation, this book is a revitalizing gust of fresh air. Philosophers Pigliucci and Boudry assemble 23 essays that challenge Larry Laudan's famous 1983 proclamation of the demarcation problem's demise. Renewed attention to the philosophical questions that pseudoscience raises mirrors an uptick in interest in pseudoscience among historians, as exemplified by Michael Gordin's The Pseudoscience Wars. Complementing such work, these essays bring focused attention to the practice and historical development of science. . . . A superb introduction to foundational questions that every philosophy student should confront. . . . Accessibly written . . . intellectually adventurous. . . . Essential."
— J. D. Martin, University of Minnesota
"In Gary Larson's cartoon 'Scientist Hell,' a smirking devil ushers an apprehensive man (beard, spectacles, white lab coat) into a room of nattering enthusiasts. The sign on the door reads, 'Psychics, Astrologists & Mediums Eternal Discussion Group.' If a similar room awaits philosophers, the present volume might come in handy."
— Martin Curd, Purdue University
or
Not Currently Available for Direct Purchase