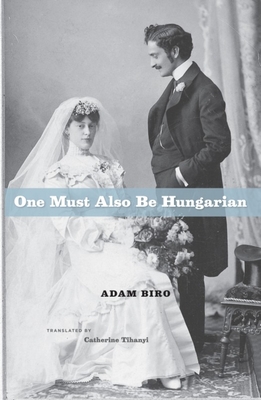 One Must Also Be Hungarian
Hardcover

* Individual store prices may vary.
Description
The only country in the world with a line in its national anthem as desperate as "this people has already suffered for its past and its future," Hungary is a nation defined by poverty, despair, and conflict. Its history, of course, took an even darker and more tragic turn during the Holocaust. But the story of the Jews in Hungary is also one of survival, heroism, and even humor—and that is the one acclaimed author Adam Biro sets out to recover in One Must Also Be Hungarian, an inspiring and altogether poignant look back at the lives of his family members over the past two hundred years. 

A Hungarian refugee and celebrated novelist working in Paris, Biro recognizes the enormous sacrifices that his ancestors made to pave the way for his successes and the envious position he occupies as a writer in postwar Europe. Inspired, therefore, to share the story of his family members with his grandson, Biro draws some moving pictures of them here: witty and whimsical vignettes that convey not only their courageous sides, but also their inner fears, angers, jealousies, and weaknesses—traits that lend an indelible humanity to their portraiture. Spanning the turn of the nineteenth century, two destructive world wars, the dramatic rise of communism, and its equally astonishing fall, the stories here convey a particularly Jewish sense of humor and irony throughout—one that made possible their survival amid such enormous adversity possible. 

Already published to much acclaim in France, One Must Also Be Hungarian is a wry and compulsively readable book that rescues from oblivion the stories of a long-suffering but likewise remarkable and deservedly proud people.


Praise For One Must Also Be Hungarian…
"Intense and stirring . . . a superb reverie on a vanished world, in a somewhat Nabokovian vein. . . . Readers who enjoy a good, righteous weep really can't go wrong with Biro. This is a deeply moving book. Biro is writing, after all, about the most weepy of all subjects: lost childhood, lost innocence."--Bookforum
— Bess Rattray
"The book, elegiac yet witty, gains in complexity as Biro grapples with the fact that his ancestors were not only Hungarian, but also Jewish. . . . Throughout this mournful and evocative book, this émigré son, who left Hungary when he was fifteen, tries to come to grips with why his unhappy heritage continues to have such a hold on him."
— Gabriel Sanders
"A moving evocation and exploration of a Jewish family's history extending over several generations."--New York Sun
— Paul Hollander
"Ironic, vehement at times, sober in the face of tragedy, playful in its digressions, lively in moments of grace and tenderness, this book is no dry chronicle. Adam Biro's ancestors in all their exuberance and sadness swirl around in a heady atmosphere like fragments of a vanished past. Scenery, sounds, colors, accents—the final echoes of a past that has become, for Adam Biro, a 'foreign country.'"--Livres Hebdo
— Livres Hebdo
"Inventiveness bursts from every page of [this book], in which, in a Central Europe finally devastated by the Shoah, then later by Stalinist dictatorship, Biro traces the history of his family over several generations. . . . 'I am the last one,' he observes, 'to have known that by-gone world,' that other side of Europe 'mysterious and mythic.' The disappearance from view of this 'over there,' from which in spite of everything, one is so proud to have come, and which nevertheless has been enlisted in the rat race for money, upsets him. . . . This Europe, 'which makes unions and makes euros' will never be completely his. Even if Adam Biro gives it a soul again."--Le Monde
— Le Monde
University of Chicago Press, 9780226052120, 168pp.
Publication Date: February 1, 2007
About the Author
Adam Biro is founder and owner of the art book publishing house Biro Éditeur in Paris. He is the author of eight previous books, including Two Jews on a Train, also published by the University of Chicago Press. Catherine Tihanyi is a translator and research associate in the department of anthropology at Western Washington University.
or
Not Currently Available for Direct Purchase