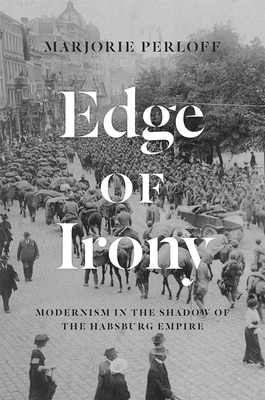 Edge of Irony
Modernism in the Shadow of the Habsburg Empire
Hardcover

* Individual store prices may vary.
Other Editions of This Title:
Paperback (1/26/2018)
Description
Among the brilliant writers and thinkers who emerged from the multicultural and multilingual world of the Austro-Hungarian Empire were Joseph Roth, Robert Musil, and Ludwig Wittgenstein. For them, the trauma of World War I included the sudden loss of the geographical entity into which they had been born: in 1918, the empire was dissolved overnight, leaving Austria a small, fragile republic that would last only twenty years before being annexed by Hitler's Third Reich. In this major reconsideration of European modernism, Marjorie Perloff identifies and explores the aesthetic world that emerged from the rubble of Vienna and other former Habsburg territories—an "Austro-Modernism" that produced a major body of drama, fiction, poetry, and autobiography.

Perloff explores works ranging from Karl Kraus's drama The Last Days of Mankind and Elias Canetti's memoir The Tongue Set Free to Ludwig Wittgenstein's notebooks and Paul Celan's lyric poetry. Throughout, she shows that Austro-Modernist literature is characterized less by the formal and technical inventions of a modernism familiar to us in the work of  Joyce and Pound, Dada and Futurism, than by a radical irony beneath a seemingly conventional surface, an acute sense of exile, and a sensibility more erotic and quixotic than that of its German contemporaries. Skeptical and disillusioned, Austro-Modernism prefers to ask questions rather than formulate answers.
Praise For Edge of Irony: Modernism in the Shadow of the Habsburg Empire…
"Indicating the vast geographic and multiethnic intellectual penetration of these authors, Perloff interplays quotes from her subjects' writings with the semi-subdued, ever-present Jewish element in this wide-ranging society. Throughout, one is aware of the worldshattering event of WW I and demise of the Habsburg Empire. . . . Highly recommended."
— Choice

"What Perloff's account provides is an understanding of a Viennese modernism within the history of a fallen Austrian state, where, with compelling clarity, she reconstructs and conveys a sense of the gravity specific to those conditions. . . . [A] powerful account."
— Los Angeles Review of Books

"Perloff's approach to these writings combines perceptive stylistic analysis with telling biographical detail, shrewd historical observation with a sense of continuing relevance."
— Times Literary Supplement

"Perloff's subjects seem to be in mourning not just for an empire and a way of life, but for the transparency and meaningfulness of language itself. As Austrians and, in many cases, as Jews, these writers had a unique vantage point on the crisis of language that was to become so central to modernism in all its guises. The edge of irony, Perloff shows, was an uncomfortable place to live, but a fruitful place to write from."
— New York Review of Books

"At a moment of increasing nationalism and populism around the globe, and in an era of 'fake news' that calls the very idea of truth and reality into question, we are well served by studying these writers who chronicled the decline of their empire."
— Modern Philolgy

"Always on the cutting edge of whatever she investigates, Perloff throws light on the subtleties and contradictions—inner and outer—of the literary universe of Celan and Canetti, Kraus and Freud, Musil and Roth. She interweaves, as no one else could, the examination of Celan's poetry with his personal life. The majestic coda to her study, dealing with Wittgenstein's fascination with the Christian Gospels and his complicated involvement with his own traces of anti-Semitism, forms a particularly convincing refusal of closure, the enemy of the historical modernism she so brilliantly studies and espouses."
— Mary Ann Caws, author of Surprised in Translation

"Most critics have dealt with Austrian modernism—and modernism in general—from a prewar perspective. Perloff rightly sees the aftermath of the war, the breakup of empire, as informing the Austro-Modernists' boldest works. Edge of Irony presents a model for attuning literary study to the political complexities with which writings like these are eternally embroiled."

— Thomas Harrison, University of California, Los Angeles

"Edge of Irony is a beautifully written account of Austrian modernism. In this important contribution to European literary history, Perloff reveals the rich contexts and surprising contemporaneity of mid-twentieth-century Austrian literature."
— Patrick Greaney, University of Colorado Boulder

"This book takes us into the undiscovered country of Austro-Modernism in all of its historical complexity, and in the process requires us to address in new ways the questions of literary innovation, the sources of authorial identity, and how to read texts whose distinctive language and formal ingenuity confront us with the inadequacies of our received critical concepts and practices. Edge of Irony is without doubt the most impressive achievement of Perloff's distinguished career."
— Gerald Bruns, University of Notre Dame

"As text corpus, Perloff presents an interesting mix of canonized texts from different genres, starting with Karl Kraus's monster drama The Last Days of Mankind, proceeding to Joseph Roth's novel Radetzky March, Robert Musil's voluminous essay-novel The Man without Qualities, Elias Canetti's autobiographical writings, Paul Celan's love poetry, and Ludwig Wittgenstein's 'Gospels'."
— Modern Language Review

"After her many books on American and European innovative poetic traditions, Marjorie Perloff published her multi-genre survey of Habsburg modernism, with individual chapters devoted to Karl Kraus, Joseph Roth, Robert Musil, Elias Canetti, Paul Celan, and Ludwig Wittgenstein, reading them all in the context of the lost empire."
— Hungarian Journal of English and American Studies
University of Chicago Press, 9780226054421, 224pp.
Publication Date: May 6, 2016
About the Author
Marjorie Perloff is the Sadie Dernham Patek Professor of Humanities Emerita at Stanford University and the Florence R. Scott Professor of English Emerita at the University of Southern California. She is the author of many books, including Poetics in a New Key and Unoriginal Genius, also published by the University of Chicago Press.
or
Not Currently Available for Direct Purchase