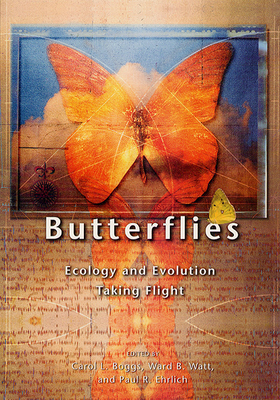 Butterflies (Paperback)
Ecology and Evolution Taking Flight
University of Chicago Press, 9780226063188, 756pp.
Publication Date: July 1, 2003
* Individual store prices may vary.
Description
In Butterflies: Ecology and Evolution Taking Flight, the world's leading experts synthesize current knowledge of butterflies to show how the study of these fascinating creatures as model systems can lead to deeper understanding of ecological and evolutionary patterns and processes in general. The twenty-six chapters are organized into broad functional areas, covering the uses of butterflies in the study of behavior, ecology, genetics and evolution, systematics, and conservation biology. Especially in the context of the current biodiversity crisis, this book shows how results found with butterflies can help us understand large, rapid changes in the world we share with them—for example, geographic distributions of some butterflies have begun to shift in response to global warming, giving early evidence of climate change that scientists, politicians, and citizens alike should heed.

The first international synthesis of butterfly biology in two decades, Butterflies: Ecology and Evolution Taking Flight offers students, scientists, and amateur naturalists a concise overview of the latest developments in the field. Furthermore, it articulates an exciting new perspective of the whole group of approximately 15,000 species of butterflies as a comprehensive model system for all the sciences concerned with biodiversity and its preservation.

Contributors:
Carol L. Boggs, Paul M. Brakefield, Adriana D. Briscoe, Dana L. Campbell, Elizabeth E. Crone, Mark Deering, Henri Descimon, Erika I. Deinert, Paul R. Ehrlich, John P. Fay, Richard ffrench-Constant, Sherri Fownes, Lawrence E. Gilbert, André Gilles, Ilkka Hanski, Jane K. Hill, Brian Huntley, Niklas Janz, Greg Kareofelas, Nusha Keyghobadi, P. Bernhard Koch, Claire Kremen, David C. Lees, Jean-François Martin, Antónia Monteiro, Paulo César Motta, Camille Parmesan, William D. Patterson, Naomi E. Pierce, Robert A. Raguso, Charles Lee Remington, Jens Roland, Ronald L. Rutowski, Cheryl B. Schultz, J. Mark Scriber, Arthur M. Shapiro, Michael C. Singer, Felix Sperling, Curtis Strobeck, Aram Stump, Chris D. Thomas, Richard VanBuskirk, Hans Van Dyck, Richard I. Vane-Wright, Ward B. Watt, Christer Wiklund, and Mark A. Willis
About the Author
Paul R. Ehrlich lives in California, where he is the Bing Professor of Population Studies and the president of the Center for Conservation Biology at Stanford University.  He is the author or coauthor of many books, including, The Population Bomb, The Dominant Animal: Human Evolution and the Environment, and Humanity on a Tightrope: Thoughts on Empathy, Family, and Big Changes for a Viable Future.
or
Not Currently Available for Direct Purchase