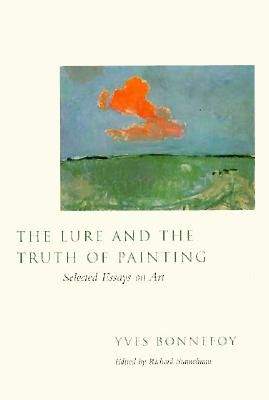 The Lure and the Truth of Painting (Hardcover)
Selected Essays on Art
University of Chicago Press, 9780226064444, 256pp.
Publication Date: November 1, 1995
* Individual store prices may vary.
Description
Yves Bonnefoy, France's most important living poet, is also a literary and art critic of renown; in writing so extensively on the visual arts, he continues the critical tradition begun in the eighteenth century by Diderot and continued in succeeding centuries by Baudelaire, Apollinaire, and other leading French poets.

The sixteen essays collected here show the breadth and depth of Bonnefoy's writings on art, aesthetics, and poetics. His lyrical ruminations range across centuries and cultures, from Byzantium to postwar France, from the paintings of Piero della Francesca to the sculptures of Alberto Giacometti and the photographs of Henri Cartier-Bresson, from the Italian Giorgio Morandi to the American Edward Hopper. Always fascinated in his poetry by the nature of color and light and the power of the image, Bonnefoy continues to pursue these themes in his discussion of the lure and truth of representation. He sees the painter as a poet whose language is a visual one, and seeks to find out what visual artists can teach those who work with words. More philosophical than historical and more poetic than critical, the essays express Bonnefoy's deep sympathy for the creative process and his great passion for individual works of art.

Bonnefoy's engagement with great art in The Lure and the Truth of Painting sheds light on the philosophy of presence and being that animates his poems. This book will be welcomed by lovers of Bonnefoy's poems and by everyone interested in the creation, history, and appreciation of art.

Yves Bonnefoy's numerous books include New and Selected Poems and In the Shadow's Light, both published by the University of Chicago Press. Richard Stamelman is director of the Center for Foreign Languages, Literatures, and Cultures and professor of romance languages at Williams College. He is the author of Lost beyond Telling: Representations of Death and Absence in Modern French Poetry.

"Few exponents of contemporary French letters deserve the attention of the reading public in America more than Yves Bonnefoy. . . . [His] writings . . . are an important lighthouse on the contemporary cultural coastline."—Emily Grosholz, The Hudson Review
About the Author
Yves Bonnefoy (1923–2016) is recognized as the greatest French poet of the past fifty years. By the time of his death,  he  had  published  eleven  major  collections  of  poetry  in  verse  and  prose,  several  books  of  tales,  and numerous studies of literature and art. Hoyt Rogers translates works from French, German, Italian, and Spanish.
 
or
Not Currently Available for Direct Purchase