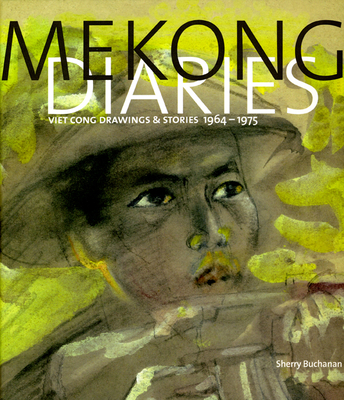 Mekong Diaries: Viet Cong Drawings and Stories, 1964-1975 (Hardcover)
Viet Cong Drawings and Stories, 1964-1975
University of Chicago Press, 9780226078304, 257pp.
Publication Date: October 1, 2008
* Individual store prices may vary.
or
Not Currently Available for Direct Purchase
Description
In May 1965, vice president Hubert Humphrey declared that the Viet Cong has committed the most unbelievable acts of terrorism the world has ever known. And throughout the long conflict in Vietnam, Americans similarly demonized theenemy fighters as reds, gooks, and fanatical killers. Offering a radically different view of these supposedly savage soldiers, "Mekong Diaries" presents never-before-published drawings, poems, letters, and oral histories by ten of the most celebrated Viet Cong war artists.
These guerrilla artists some military officers and some civilians lived clandestinely with the fighters, moving camp alongside them, going on reconnaissance missions, and carrying their sketchbooks, ink, and watercolors into combat. Trained by professors from the Hanoi Institute of Fine Arts who journeyed down the perilous Ho Chi Minh Trail to ensure a pictorial history of the war, they recorded battles and events from Operation Junction City to Khe Sanh to the Tet Offensive. They also sketched as the spirit moved them, rendering breathtaking landscapes, hut and bunker interiors, activities at base camps, troops on the move, portraits for the families of fallen soldiers, and the unimaginable devastation that the conflict left in its wake.
Their collective record which Sherry Buchanan skillfully compiles here is an extraordinary historical and artistic document of people at war. As such, it serves as a powerful response to the self-centeredness of American accounts of Vietnam, filling a profound gap in our national memory by taking us into the misunderstood worlds of those whom we once counted among our worst enemies.
About the Author
Sherry Buchanan is an independent scholar, author, and publisher of Asian and Vietnamese contemporary art, history, and culture. A former features editor at the "Wall Street Journal," she has served as a columnist for the "International Herald Tribune" in Brussels, Paris, London, and Hong Kong. She remains active in children s charities in Vietnam.

"
Praise For Mekong Diaries: Viet Cong Drawings and Stories, 1964-1975…
"Sherry Buchanan''s new book . . . gives us a stunning look at some of the wartime art produced by the Vietnamese soldier-artists who served in the ''American War'' to drive out the U.S., topple the American-backed government in Saigon and reunite Vietnam. . . . Many of the works gathered here are simply beautiful—amazingly so given the conditions of their creation—the kind of art you could hang in a dining room without risk of distressing your dinner guests. Indeed, one of the most obvious things to say about this work is that it defies almost every common American or Western conception of war-related art."—Christian Appy, Truthdig.com
-Christian Appy

"[The] volume is a moving alternative to common American narratives of the war and offers extraordinary insight into Vietnamese hearts, military and civilian."
-Deena Guzder

"The book opens an important window onto the war. . . . An important resource for those studying the Vietnam War, particularly its cultural output."
Advertisement