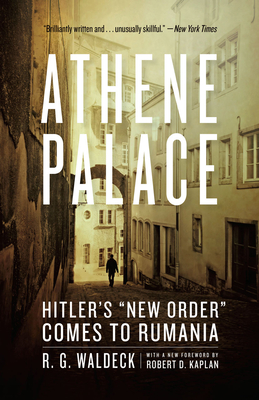 Athene Palace
Hitler's "New Order" Comes to Rumania
Paperback

* Individual store prices may vary.
Other Editions of This Title:
Hardcover (6/1/2018)
Paperback (9/1/2019)
Description
On the day that Paris fell to the Nazis, R. G. Waldeck was checking into the swankiest hotel in Bucharest, the Athene Palace. A cosmopolitan center during the war, the hotel was populated by Italian and German oilmen hoping to secure new business opportunities in Romania, international spies cloaked in fake identities, and Nazi officers whom Waldeck discovered to be intelligent but utterly bloodless. A German Jew and a reporter for Newsweek, Waldeck became a close observer of the Nazi invasion. As King Carol first tried to placate the Nazis, then abdicated the throne in favor of his son, Waldeck was dressing for dinners with diplomats and cozying up to Nazi officers to get insight and information. From her unique vantage, she watched as Romania, a country with a pro-totalitarian elite and a deep strain of anti-Semitism, suffered civil unrest, a German invasion, and an earthquake, before turning against the Nazis. A striking combination of social intimacy and disinterest political analysis, Athene Palace evokes the elegance and excitement of the dynamic international community in Bucharest before the world had comes to grips with the horrors of war and genocide. Waldeck's account strikingly presents the finely wrought surface of dinner parties, polite discourse, and charisma, while recognizing the undercurrents of violence and greed that ran through the denizens of Athene Palace.
Praise For Athene Palace: Hitler's "New Order" Comes to Rumania…
"Excellent description and shrewd observation." 
— Times Literary Supplement

 "The most vivid report, long or short, I have ever seen on Rumania . . . brilliantly written and mercilessly barbed. An unusually skillful and readable book."
— Ralph Thompson

"Well put together, always readable and often witty. . . . Countess Waldeck never protests too much; sometimes, one feels she might protest a little more. But all is forgiven in the end when her remarks are as shrewd as her conclusions are agreeable."
— New Republic

"One might ask why a contemporary reader would bother with a book so old and outdated. The answer is clear. First, Waldeck is an uncommonly talented writer whose prose is a pleasure to read. Second, she writes authoritatively. Rumania lay on the fault line between Allied and Axis powers and was up for grabs, and Waldeck understood the dynamics of this power struggle. . . . In Athene Palace, she documents all these momentous developments with skill and panache, giving a reader an insider's view of a nation and a people in turmoil and transition."
— Sheldon Kirshner

"There are many reasons why this book should be read. Those interested in the war will appreciate Waldeck's shrewdness as an observer of the political scene. . . . Athene Palace also merits appreciation for the entertaining vigour of its language, in which Waldeck's personality—catty, egotistical, mischievous and inquisitive—is constantly felt. She writes with acuity, élan and a sassiness that can border on the camp. . . . Waldeck's combination of political alertness and literary talent recommends Athene Palace to our age as surely as her own."
— Steven Lovatt
University of Chicago Press, 9780226086330, 368pp.
Publication Date: August 22, 2013
About the Author
R. G. Waldeck (1898–1982) was a German-American journalist and author of several books, including Prelude to the Past.

or
Not Currently Available for Direct Purchase