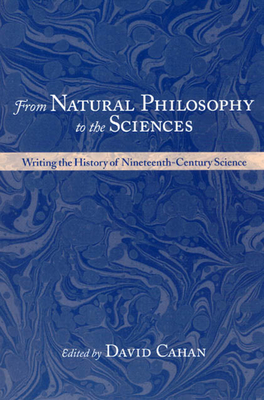 From Natural Philosophy to the Sciences (Paperback)
Writing the History of Nineteenth-Century Science
University of Chicago Press, 9780226089287, 472pp.
Publication Date: September 15, 2003
* Individual store prices may vary.
Description
During the nineteenth century, much of the modern scientific enterprise took shape: scientific disciplines were formed, institutions and communities were founded, and unprecedented applications to and interactions with other aspects of society and culture occurred.

In this book, eleven leading historians of science assess what their field has taught us about this exciting time and identify issues that remain unexamined or require reconsideration. They treat both scientific disciplines—biology, physics, chemistry, the earth sciences, mathematics, and the social sciences—in their specific intellectual and sociocultural contexts as well as the broader topics of science and medicine; science and religion; scientific institutions and communities; and science, technology, and industry.

Providing a much-needed overview and analysis of a rapidly expanding field, From Natural Philosophy to the Sciences will be essential for historians of science, but also of great interest to scholars of all aspects of nineteenth-century life and culture.

Contributors:
Bernadette Bensaude-Vincent, Jed Z. Buchwald, David Cahan, Joseph Dauben, Frederick Gregory, Michael Hagner, Sungook Hong, David R. Oldroyd, Theodore M. Porter, Robert J. Richards, Ulrich Wengenroth
About the Author
David Cahan is the Charles Bessey Professor of History at the University of Nebraska-Lincoln. He is the author of An Institute for an Empire: The Physikalisch-Technische Reichsanstalt 1871-1918 and coauthor of Science at the American Frontier: A Biography of DeWitt Bristol Brace. He is the editor of Hermann von Helmholtz and the Foundations of Nineteenth-Century Science and Helmholtz's Science and Culture: Popular and Philosophical Essays.
or
Not Currently Available for Direct Purchase