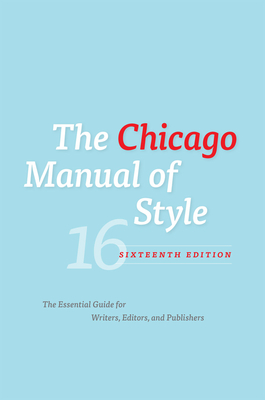 The Chicago Manual of Style, 16th Edition
Hardcover

* Individual store prices may vary.
Description
**The 16th edition of The Chicago Manual of Style has been superseded by the 17th edition.**

While digital technologies have revolutionized the publishing world in the twenty-first century, one thing still remains true: The Chicago Manual of Style is the authoritative, trusted source that writers, editors, and publishers turn to for guidance on style and process. For the sixteenth edition, every aspect of coverage has been reconsidered to reflect how publishing professionals work today. Though processes may change, the Manual continues to offer the clear, well-considered style and usage advice it has for more than a century.
The sixteenth edition offers expanded information on producing electronic publications, including web-based content and e-books. An updated appendix on production and digital technology demystifies the process of electronic workflow and offers a primer on the use of XML markup, and a revised glossary includes a host of terms associated with electronic as well as print publishing. The Chicago system of documentation has been streamlined and adapted for a variety of online and digital sources. Figures and tables are updated throughout the book—including a return to the Manual's popular hyphenation table and new, comprehensive listings of Unicode numbers for special characters.
Praise For The Chicago Manual of Style, 16th Edition…
"As an equal-opportunity usage geek, I'm excited. . . . The new edition's press materials come with a 19-point bulleted list of what's fresh, including an electronic-editing checklist, all sorts of guidelines for e-publishing (XML workflow, anyone?), and — here's where they had me — a whole new section on parallel structure! (Swoon.) The book contains an 'expanded section on bias-free language,' which in this cultural moment I might have titled the 'wishful thinking' section. And it promises 'firmer rules and clearer recommendations,' which was striking, considering the seemingly inexorable trend away from firmness in matters of grammar and usage, especially online."
— New York Times Paper Cuts Blog
"The Sixteenth Edition of the Chicago Manual of Style is here, and it's hard for some of us to contain our excitement. . . . For those of us who spend our days worrying over words, there really is something thrilling—or at least comforting—about the arrival of the newest incarnation of this venerable guide."
— New Yorker Book Bench Blog
"Bound, famously, in orange and thicker with each new edition, the 104-year-old reference classic has kept watch over the publication of hundreds of great books and thousands of not-so-great ones, an arbiter and aide-de-camp for editors trying to decide how to handle items in a list, punctuation within quotes or, these days, the proper hexadecimal code for the German double low-9 quotation mark (201E, as you probably suspected)."
— Steve Johnson
"For over one hundred years, The Chicago Manual of Style has been setting and defending stylistic standards. In a world where we often communicate with just our thumbs and publish our thoughts from 30,000 feet in the air, we need something to ground us, to solve the little problems, to give us answers we never knew we needed, and to make us beam (or scream) with solutions to the dilemma of the omitted antecedent of a relative pronoun."
— Stranger
"The new go-to publishing manual is here! Responding to the demands made of publishing professionals in the digital age, the 16th edition continues to provide information for word lovers but has enhanced its guidelines to include electronic workflow and processes. . . . This venerable bible also has a new pastel blue bookjacket to alert users to the style, usage, and technology updates within, though the familiar orange cloth lies below. A worthy, welcome addition to every library collection as well as professional wordsmiths and educated readers of all persuasions."
— Library Journal
"The 16th edition has been restructured for digital publishing, making it more relevant, and has stopped waffling on many rules, making it easier to use. If you already use CMS, I'd strongly urge you to update to the 16th edition. It's not a small update, and it just may resolve many of the issues you've been dealing with."
— Erin Brenner
"CMS is marked by unfaltering good sense; and a good index and numbered paragraphs make it easily navigable. . . . Such is the book's scope that it addresses itself to everything from the most straightforward conventions of layout . . . to submission requirements for authors and broader concerns such as editorial judgment."
— Catharine Morris
"Chicago's granite-solid strength abides in the familiar guidance generations of editors and scholars have depended upon—how to treat punctuation, names, numbers, tables, quotations, dialogue, abbreviations, etc. Users will welcome the streamlined approach to documentation, introducing greater consistency between the author-date and the notes-bibliography citation systems. This is the first edition of The Chicago Manual of Style to be published simultaneously in print and online. Either way, no library serving serious authors can be without it."
— Booklist
"[The sixteenth edition] is nothing if not acutely digitally aware. . . . Efficient, intuitive navigation and searching are the hallmark of CMS 16 online."
— Charles M. Levin
"This iteration has a jacket the calming shade of a robin's egg or one of those old Mac screens, and you can imagine a weary copy editor cooling her tired brow against it. It has about a hundred more pages than the fourteenth and a crisper font."
— Ed Park
"The online version of the manual provides a clean, intuitive interface for users accustomed to print reference sources, with a hyperlinked table of contents on the main page."
— Choice
University of Chicago Press, 9780226104201, 1026pp.
Publication Date: August 1, 2010
or
Not Currently Available for Direct Purchase