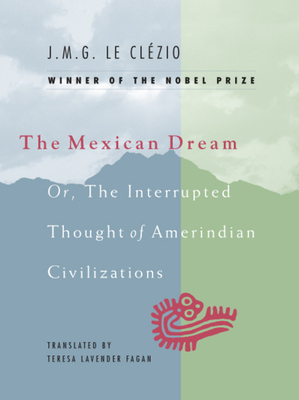 The Mexican Dream: Or, the Interrupted Thought of Amerindian Civilizations (Hardcover)
Or, the Interrupted Thought of Amerindian Civilizations
University of Chicago Press, 9780226110028, 232pp.
Publication Date: December 1, 1993
* Individual store prices may vary.
or
Not Currently Available for Direct Purchase
Description
Winner of the 2008 Nobel Prize for Literature, J. M. G. Le Clezio here conjures the consciousness of Mexico, powerfully evoking the dreams that made and unmade an ancient culture. Le Clezio's haunting book takes us into the dream that was the religion of the Aztecs, a religion whose own apocalyptic visions anticipated the coming of the Spanish conquerors. Here the dream of the conquistadores rises before us, too, the glimmering idea of gold drawing Europe into the Mexican dream. Against the religion and thought of the Aztecs and the Tarascans and the Europeans in Mexico, Le Clezio also shows us those of the "barbarians" of the north, the nomadic Indians beyond the pale of the Aztec frontier.
Finally, Le Clezio's book is a dream of the present, a meditation on what in Amerindian civilizations--in their language, in their way of telling tales, of wanting to survive their own destruction--moved the poet, playwright, and actor Antonin Artaud and motivates Le Clezio in this book. His own deep identification with pre-Columbian cultures, whose faith told them the wheel of time would bring their gods and their beliefs back to them, finds fitting expression in this extraordinary book, which brings the dream around.
"We are lucky to have in Le Clezio a writer of great quality who brings his particular sensibility and talent here to remind us of the very nature of the rituals and myths of the civilizations of ancient Mexico; he provides us with descriptions as precise as they are mysterious."--Le Figaro
About the Author
J. M. G. Le Clezio, winner of the 2008 Nobel Prize in Literature, was born in Nice in 1940. In 1963 he received the Renaudot Prize for his first novel, Le proces-verbal. He has studied the Indian civilizations of pre-Columbian Mexico since 1971 and has published translations of Mayan sacred texts and an evocation of three sacred villages in the land of the Maya, Trois villes saintes (1980).
Advertisement