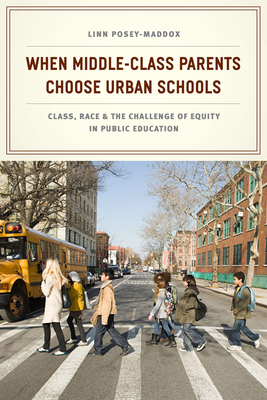 When Middle-Class Parents Choose Urban Schools
Class, Race, and the Challenge of Equity in Public Education
Paperback

* Individual store prices may vary.
Other Editions of This Title:
Hardcover (3/18/2014)
Description
In recent decades a growing number of middle-class parents have considered sending their children to—and often end up becoming active in—urban public schools. Their presence can bring long-needed material resources to such schools, but, as Linn Posey-Maddox shows in this study, it can also introduce new class and race tensions, and even exacerbate inequalities. Sensitively navigating the pros and cons of middle-class transformation, When Middle-Class Parents Choose Urban Schools asks whether it is possible for our urban public schools to have both financial security and equitable diversity.
           
Drawing on in-depth research at an urban elementary school, Posey-Maddox examines parents' efforts to support the school through their outreach, marketing, and volunteerism. She shows that when middle-class parents engage in urban school communities, they can bring a host of positive benefits, including new educational opportunities and greater diversity. But their involvement can also unintentionally marginalize less-affluent parents and diminish low-income students' access to the improving schools. In response, Posey-Maddox argues that school reform efforts, which usually equate improvement with rising test scores and increased enrollment, need to have more equity-focused policies in place to ensure that low-income families also benefit from—and participate in—school change. 

Praise For When Middle-Class Parents Choose Urban Schools: Class, Race, and the Challenge of Equity in Public Education…
"Sociologically sophisticated yet broadly accessible . . . When Middle-Class Parents Choose Urban Schools presents an important case study of a school grappling with the ramifications of its own success in attracting new middle-class families and increasing the level of parental involvement in the school . . . [it] makes an invaluable contribution that will inform political efforts to promote equity in urban public school districts. It is highly recommended not just for scholars and students interested in urban education, gentrification, and inequality in American cities but also for teachers and other practitioners in urban schools who must work actively to adapt to the shifting needs of students and families as their schools undergo rapid socioeconomic change."
 
— American Journal of Education

"Calls for upholding equitable urban change, which requires monitoring of demographic shifts, as well as establishing policies to ensure low-income families are included and benefit. This book is particularly recommended to stakeholders who are committed to high-quality and well-resourced urban schools. . . . Recommended."
— Choice

"This book is indeed thought-provoking. It raises important questions about equity, parent involvement, school, and society itself. The return of White mid­dle-class parents did change the school, and in this case, it changed it in an extreme way. The broader gentrification that quickly followed the initial return of middle-class families changed the school and the neighborhood around it. The issues raised by Posey-Maddox not only deserve but demand to be part of the dialogue of education reform and urban revitalization. In the end, the book raises a critical question for urban planners, educa­tional leaders, policymakers, academic researchers, and, yes, parents interested in school reform that benefits all students: Can the choices and engagement of parents, particularly middle-class parents, be relied upon as a substitute for more structural reforms to improve urban public schools?"
— School Community Journal

"When Middle Class Parents Choose Urban Schools demonstrates the efficacy and power of white middle-class social networks and the power these parents have to transform schools as well as neighbourhoods. However, just as gentrification of residential areas has squeezed out working-class families from their historic locales, this albeit well-intentioned initiative has led to the unintended consequence of squeezing out low-income and, in the case of Morningside, African-American families from the school. It has also had the unintended consequence of shifting the nature of diversity away from racial and ethnic and class diversity, and ironically undermining one of the important motivators for some families in wanting to send their children there."

— British Journal of Sociology of Education
University of Chicago Press, 9780226120218, 232pp.
Publication Date: March 18, 2014
About the Author
Linn Posey-Maddox is assistant professor of educational policy studies at the University of Wisconsin–Madison. 

or
Not Currently Available for Direct Purchase