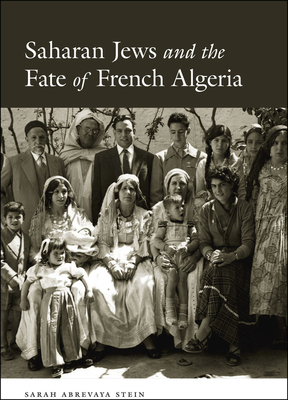 Saharan Jews and the Fate of French Algeria
Hardcover

* Individual store prices may vary.
Other Editions of This Title:
Paperback (5/6/2014)
Description
The history of Algerian Jews has thus far been viewed from the perspective of communities on the northern coast, who became, to some extent, beneficiaries of colonialism.  But to the south, in the Sahara, Jews faced a harsher colonial treatment. In Saharan Jews and the Fate of French Algeria, Sarah Abrevaya Stein asks why the Jews of Algeria's south were marginalized by French authorities, how they negotiated the sometimes brutal results, and what the reverberations have been in the postcolonial era.
           
Drawing on materials from thirty archives across six countries, Stein tells the story of colonial imposition on a desert community that had lived and traveled in the Sahara for centuries. She paints an intriguing historical picture—of an ancient community, trans-Saharan commerce, desert labor camps during World War II, anthropologist spies, battles over oil, and the struggle for Algerian sovereignty. Writing colonialism and decolonization into Jewish history and Jews into the French Saharan one, Saharan Jews and the Fate of French Algeria is a fascinating exploration not of Jewish exceptionalism but of colonial power and its religious and cultural differentiations, which have indelibly shaped the modern world. 

Praise For Saharan Jews and the Fate of French Algeria…
"Stein's beautifully written book, Saharan Jews and the Fate of French Algeria is an indispensable exploration of the history of indigeneity in Algeria under French rule. . . . These fascinating stories can only emerge under the high-resolution magnifying glass that Stein has so impressively brought to this part of the globe and their significance will be readily apparent to all who read this finely wrought book."
 
— H-France

"Saharan Jews and the Fate of French Algeria is a very engaging piece of historical scholarship and should interest any graduate students and academics working in the modern history of North Africa, French colonial history, and legal history. In addition, Stein's treatment of questions of identity and subjectivity, and the way she unravels their place in the process of modernity, make this book of interest to anyone wanting to better understand the ways in which the empire articulated new relationships all along the late colonial moment."

— Journal of North African Studies

"Stein's book should be celebrated as a new and important contribution to the field of Jewish, Middle Eastern, and North African Studies. The author shows her persistence to write against mainstream historical themes and subjects. She insists that the margin has the capacity to tell a complex story that sheds light on the center in relation to larger networks. Like the ostrich feather story, the narrative of Mzabi Jewish dwellers is used by the author to highlight global connections of a historical narrative whose plot starts in the Mzab Valley and takes the reader to Algiers, France, Israel, and back to Ghardaïa. This way of writing and conceptualizing the story allows Stein to avoid abstract jargon that could limit her readership to academic environments. The book is not only a compelling read for students of Middle Eastern, Jewish, and North African Studies but also for a growing general public of readers interested in questions of North African Jewish and Muslim memory and history."

— International Journal of Middle East Studies

"Stein's beautifully written monograph, with its convincing argument about the vagaries of French colonial policy in Algeria, expands the boundaries of what we know about the processes of transformation that turned wildly divergent types of North African Jews into conventional 'Mizrahim'."
 
— Journal of North African Studies, review essay

"Saharan Jews demonstrates the value of taking a global approach to the study of a local subject. A wealth of archival material from multiple continents and languages has enabled Stein to show that, while the indigenous legal status of the Jews of the Mzab significantly limited their ability to interact with the broader world, they contributed to and experienced global history nonetheless."
— Itinerario
University of Chicago Press, 9780226123608, 272pp.
Publication Date: May 6, 2014
About the Author
Sarah Abrevaya Stein is professor of history and the Maurice Amado Chair in Sephardic Studies at the University of California, Los Angeles. She is the author of Plumes: Ostrich Feathers, Jews, and a Lost World of Global Commerce and Making Jews Modern: The Yiddish and Ladino Press in the Russian and Ottoman Empires, and coeditor of A Jewish Voice from Ottoman Salonica: The Ladino Memoir of Sa'adi Besalel a-Levi and Sephardi Lives:  a documentary history, 1700-1950. 

or
Not Currently Available for Direct Purchase